Heidi Klum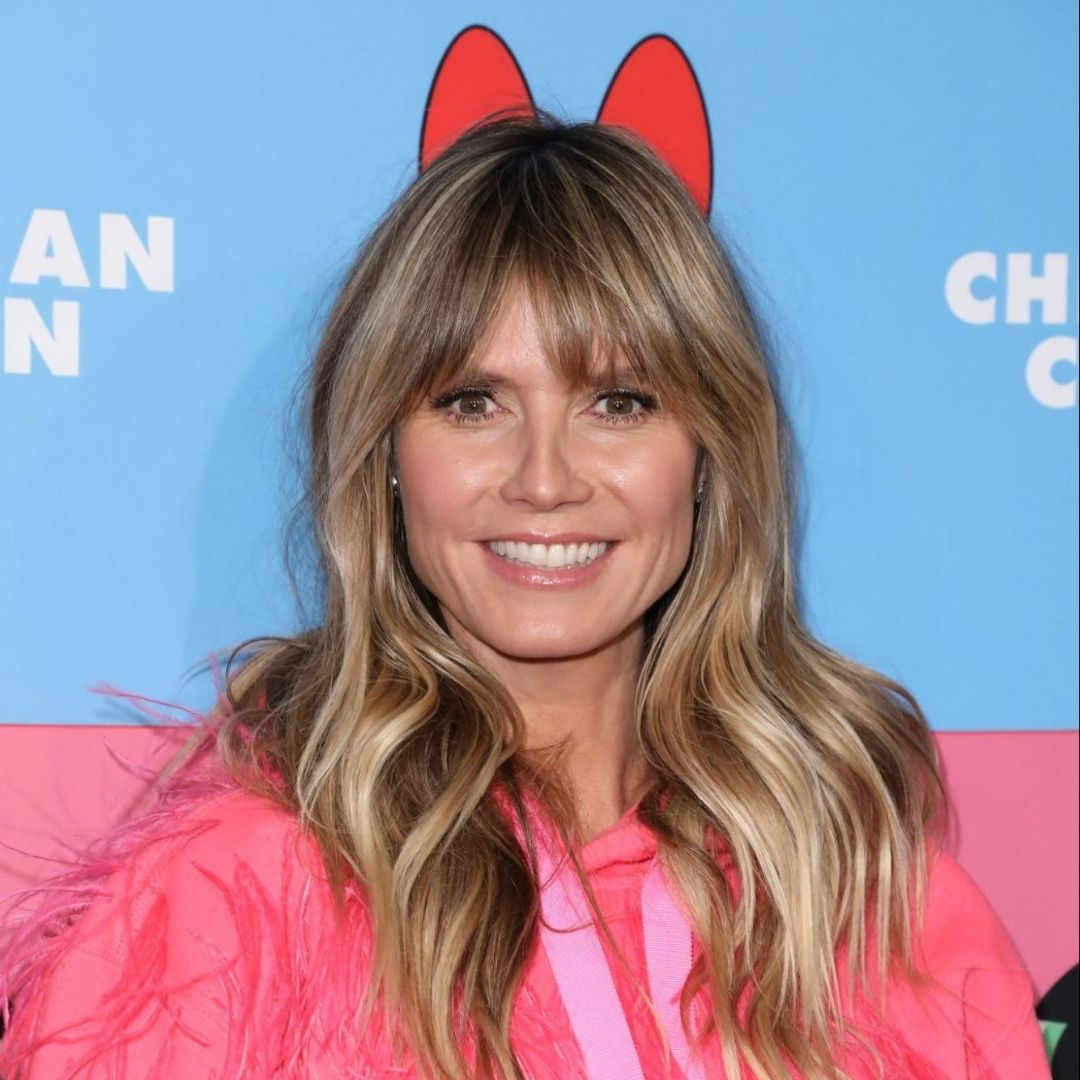 The queen of Halloween costumes Heidi Klum has gifted us with many amazing looks over the years. From Princess Fiona to Jessica Rabbit; the former project runway star has been incredibly creative over the years and is always ready to wow us with a costume. But it seems even at events, Heidi unintentionally dresses up, and the image above shows her smiling brightly at the camera at the Christian Cowan x Powerpuff Girls Fashion Show at the City Market Social House with blossoms signature bow behind her making her look like the pink Powerpuff girl herself.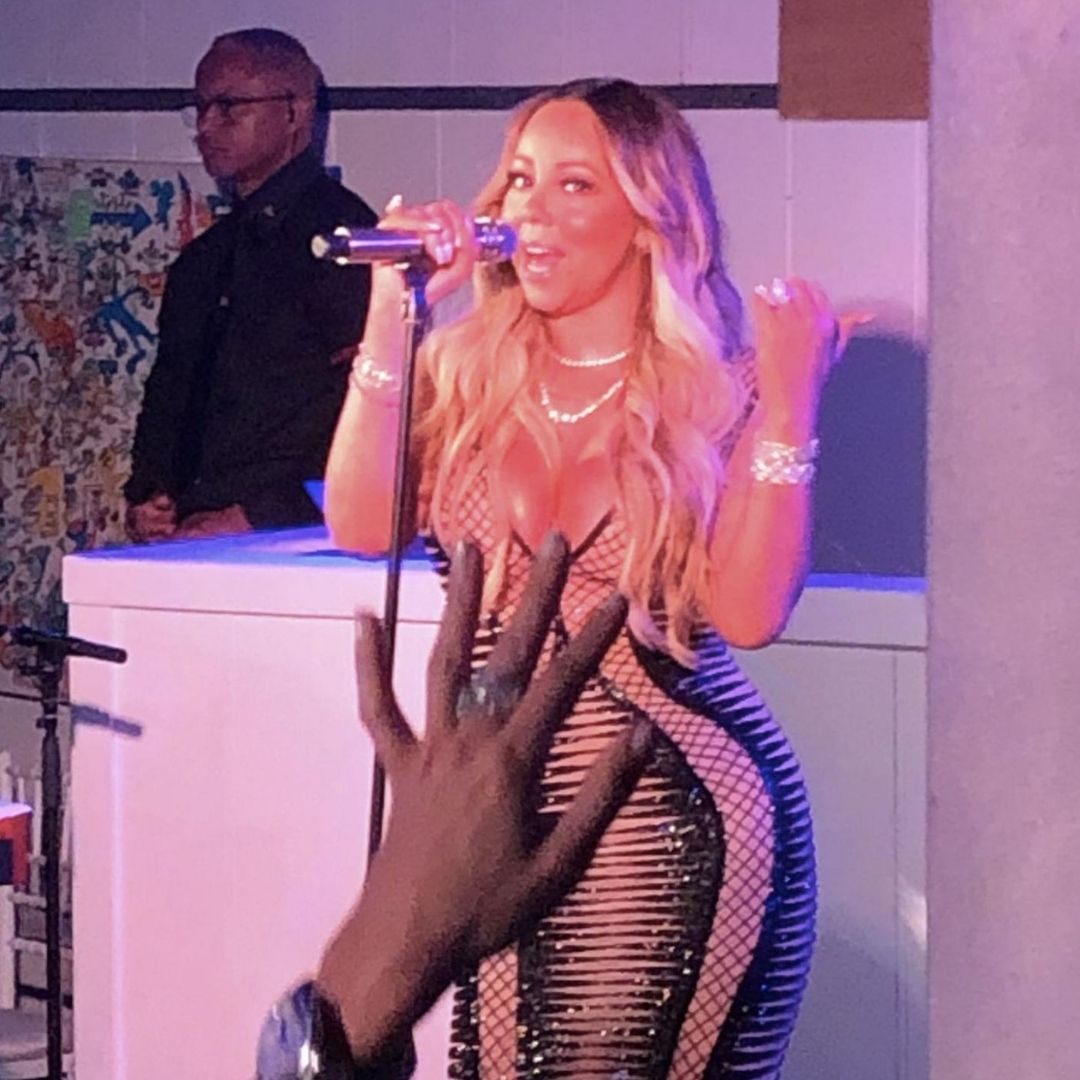 Being the iconic human being she is, there is no wonder Mariah Carey has a whole army of fans who have become 'Obsessed' with her over the years. But perhaps this one fan takes the cake because in this funny photo it looks as if one of her adoring fans is getting a little too close to Mariah's girls as she celebrates New Year's Eve at Nikki Beach in St Barts in the Caribbean! It seems that even in her 50s, she's still got a body that is desired by many. 
Alexander Skarsgard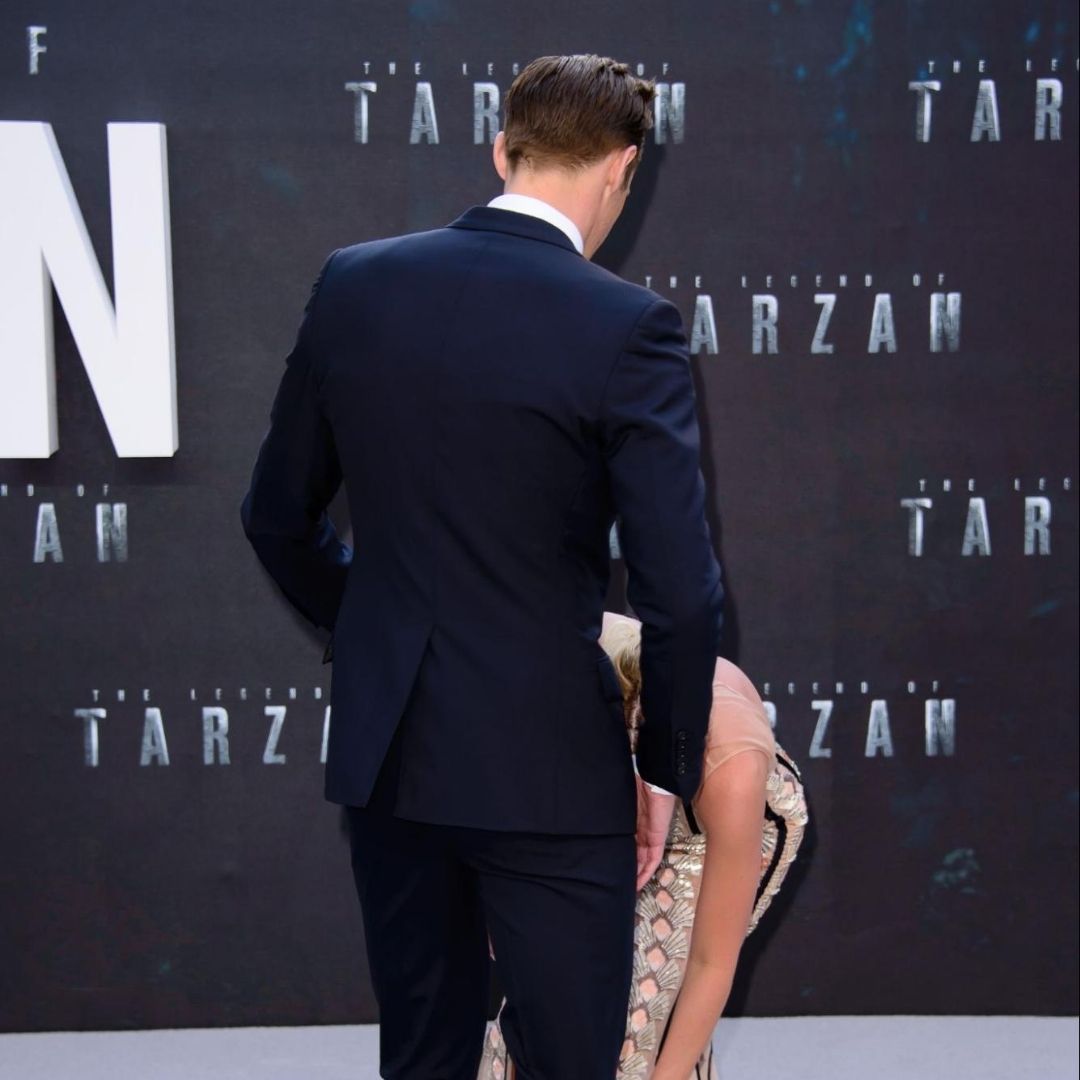 "Tarzan" is a classic Disney story following a boy raised by gorillas who had to learn how to be an English Gentlemen. The live-action remake of this movie came out in 201 and focused on the time after Tarzan had been reintegrated into society, and shows his relationship with Jane played by the ever-flawless Margot Robbie. However, in this compromising image, it looks like the titular star himself didn't quite get the memo of how to be a proper English gentleman! At the premiere of the live-action "The Legend of Tarzan," which hit our screens back in 2016, Alexander can be seen on the red carpet with Margot and the timing of this photo gives the illusion that these stars are doing more than attending a movie premiere together. This NSFW image is unfortunately timed but does give us a priceless memory to look back on. 
Ellie Goulding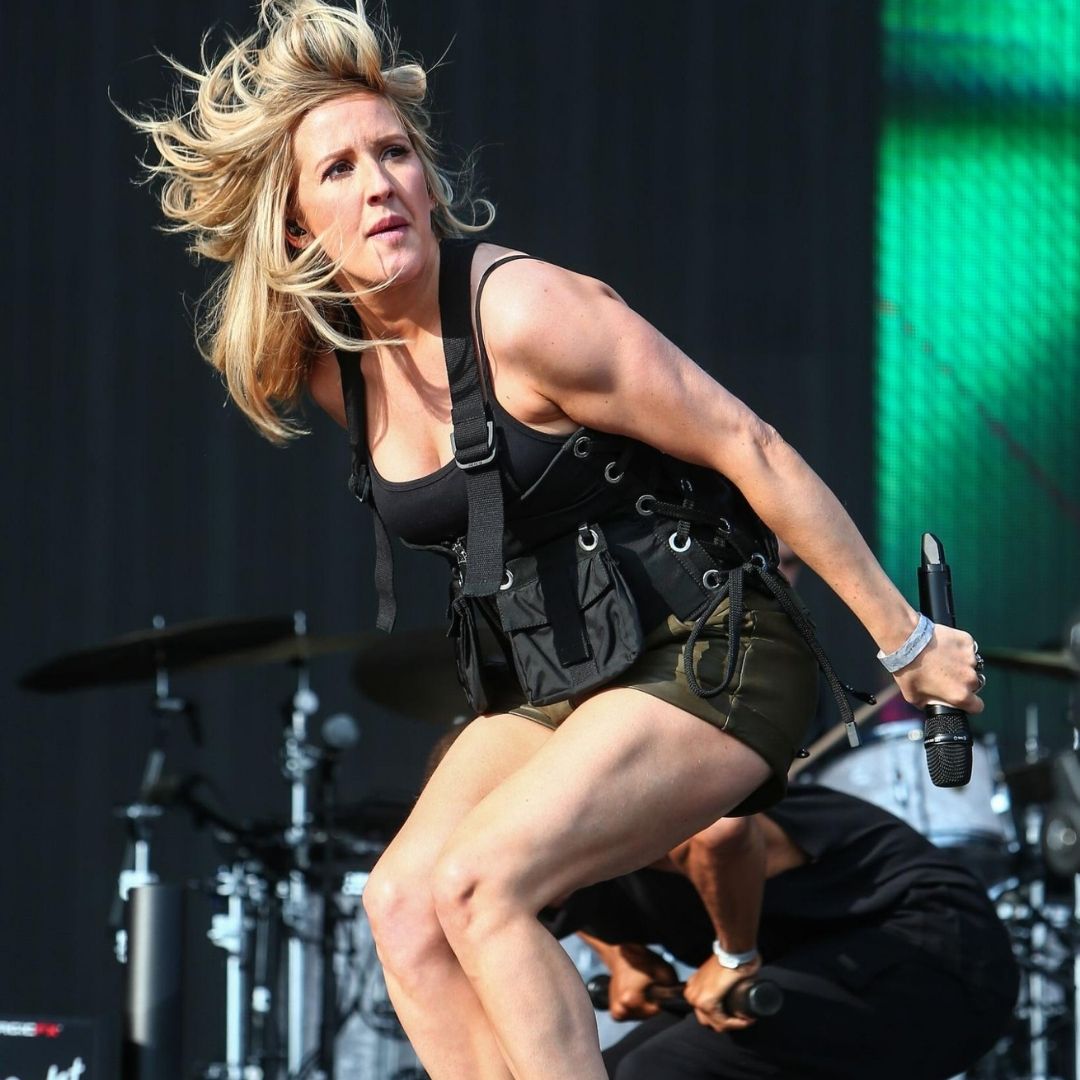 Ellie Goulding rose to fame back in 2009 and her version of the iconic Elton John hit "Your Song" allowed this young performer to reach stardom with her peppered voice. In the years since, she has become a megastar and has even seen some drama in the public eye when it was speculated that Ed Sheeran wrote his song "Don't," about her having an affair with Niall Horan. In this photo above Ellie is doing what she does best by singing her heart out in a black vest and khaki shorts at Radio 1 Big Weekend held at Powderham Castle. We can't help but feel a little sorry for the man crouched behind her because it looks like she is sat on his head. 
Kelly Brook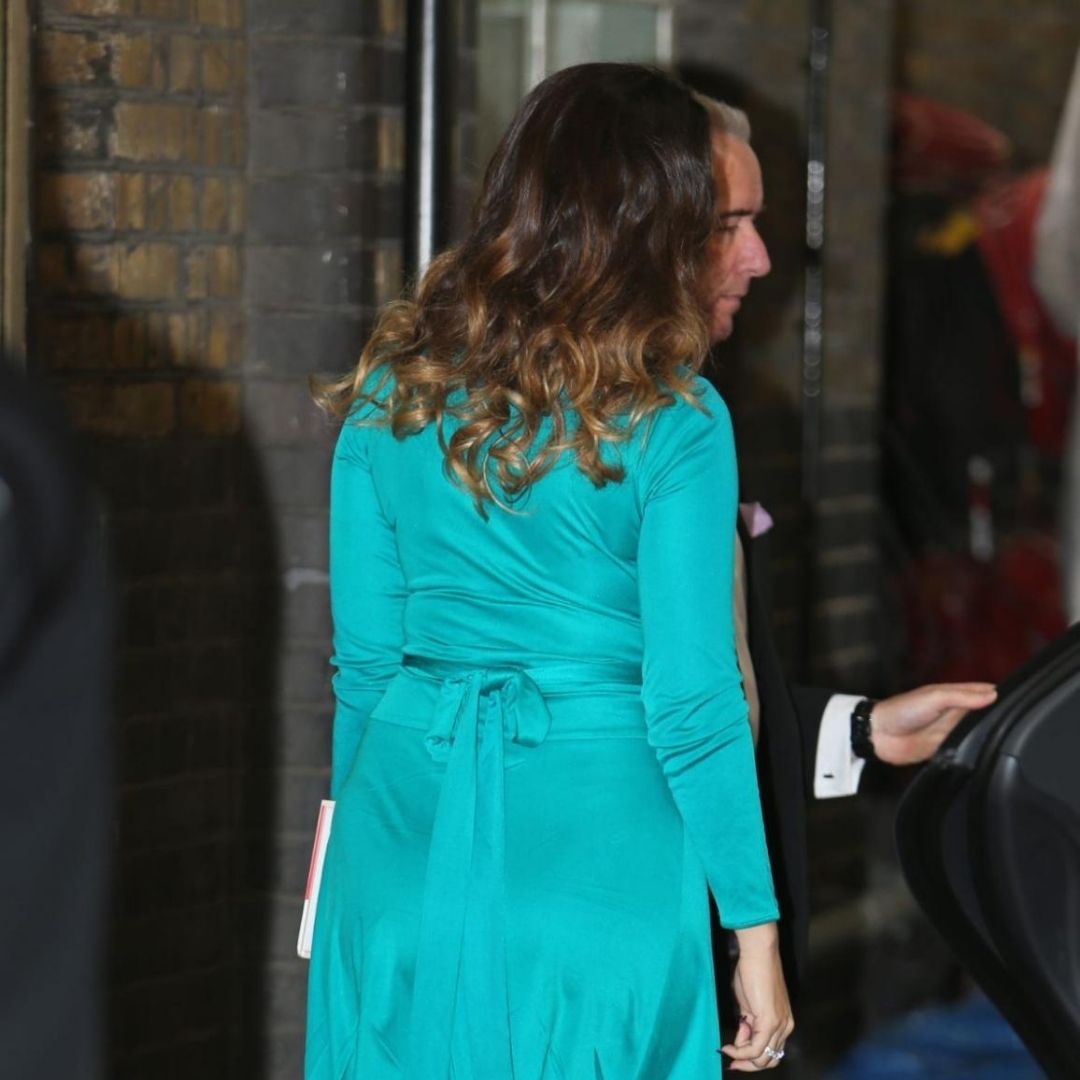 Kelly Brook is looking stunning outside ITV Studios in this satin effect teal dress, paired with a simple pair of black heels. Her curly chestnut hair sets off this glamorous ensemble perfectly and we would expect no less from this elegant lady. But one thing about this photo does seem a little odd – and that's the fact that she seems to have swapped faces with a silver-haired man. We are sure he would look lovely in this color dress, but we think leaving it to the pros is the best way forward. 
Zooey Deschanel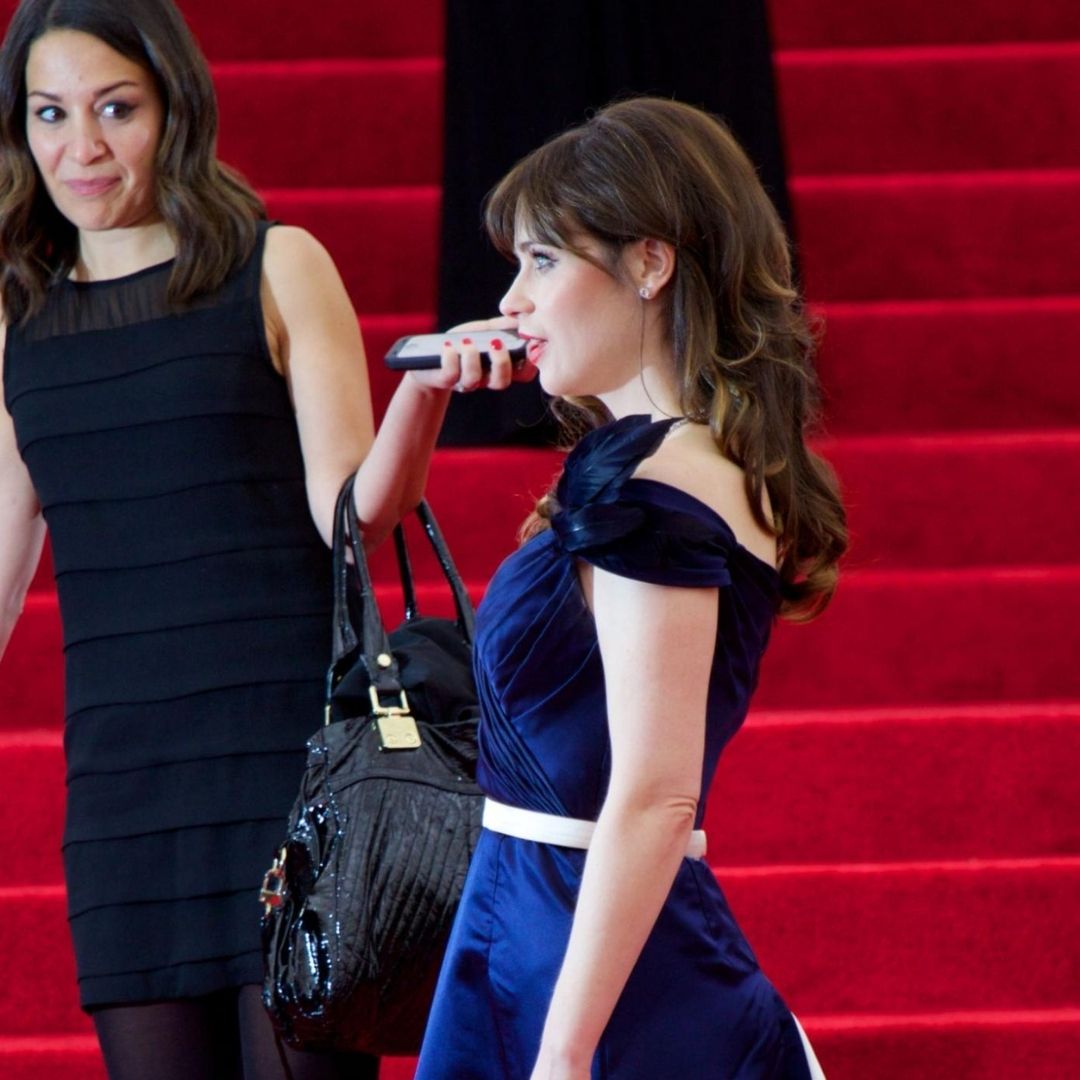 If ever there was a celebrity who would instantly be on everyone's 'famous best friend' list; it would be Zooey Deschanel. This stunning actress rose to fame after her appearance in the Jon Favreau-directed Christmas Classic 'Elf'. With her sultry and soulful voice coupled with her happy-go-lucky girl next door vibe, it's no wonder she is loved by many. Her sitcom New Girl is an instant classic showing her moving into an apartment in the city with 3 guys and turning their lives upside down. Here she poses at the Charles James: Beyond Fashion Costume Institute Gala at the Metropolitan Museum of Art, but it seems as though the woman behind her is trying to force her phone into Zooeys mouth!
Kate Upton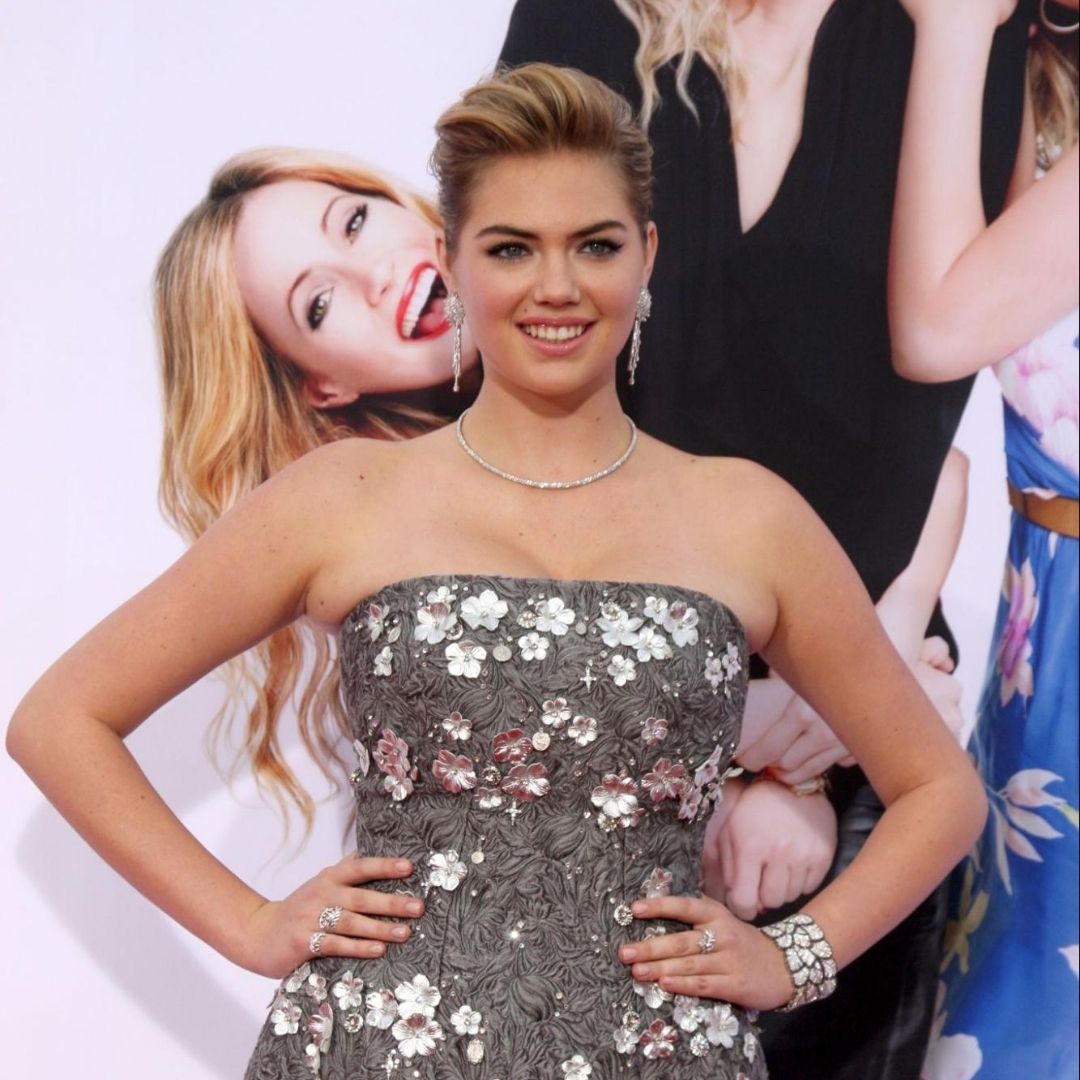 Known well for her work as a model, Kate Upton has acted as 'the hot one' in many romantic comedies over the years. At the Los Angeles premiere of the comedy The Other Woman – Kate looks stunning as always with her golden hair secured into a bun, and her floral sparkly dress stealing the show. One other thing to note is how it appears Leslie Mann can't get enough of the blonde bombshell, appearing to nibble or whisper sweet nothings into her ear. We can't say we blame her. 
Heidi Klum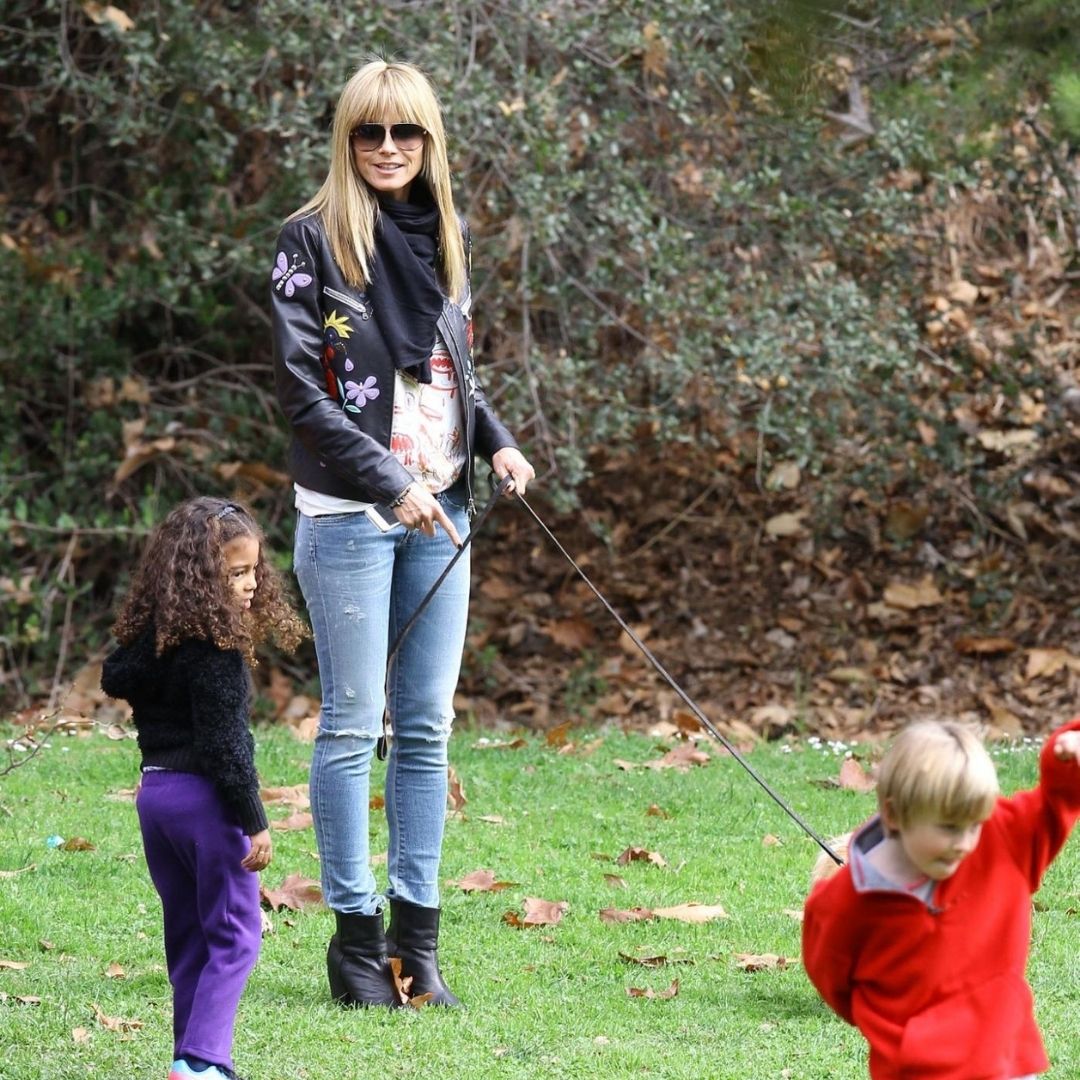 Who else could make this list twice other than the chameleon herself – Heidi Klum. Here she is seen in a casual embellished leather jacket, white t-shirt, jeans, and ankle boots while taking her children to a soccer game in Brentwood. Her daughter Leni's new Pomeranian puppy, Buttercup, is also present in this photo however it looks as if Heidi is actually walking her son on the leash.
Emmanuelle Seigner 
Emmanuelle Seigner is a stunning French actress who is best known for her roles in Frantic, The Ninth Gate, and Venus in Fur. The stunning actress and model has been on screen for a long while and here she wears a vibrant pink dress and leather jacket; allowing her blonde wavy bob and bangs to frame her face flawlessly as she poses at the Cesar Award 2014 Nominees Dinner at Fouquet's. We would say we would like a give her a hand, but judging by this image she already has plenty of them to use.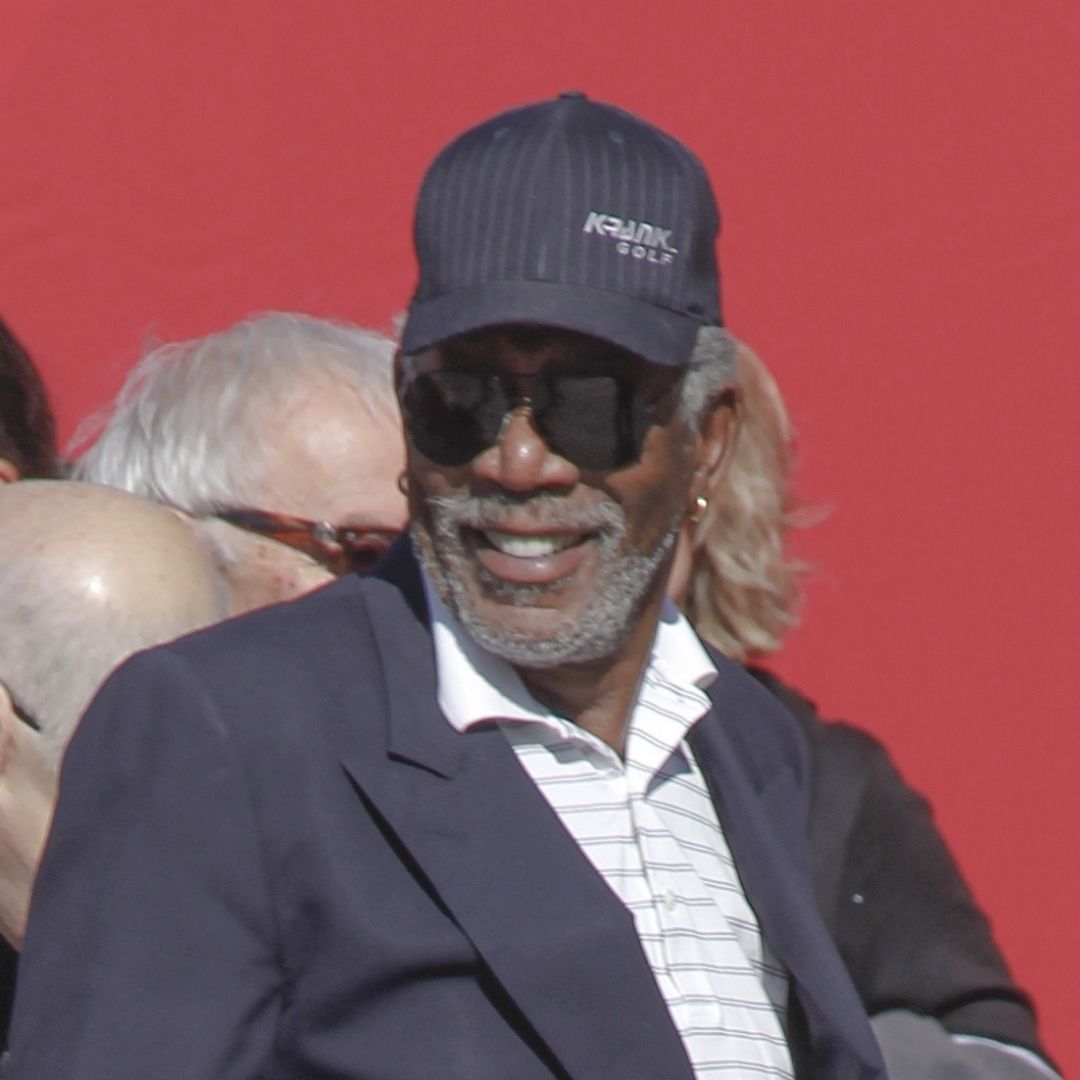 If you have been around Hollywood for decades and you become known as the man with the most soothing and authoritative voice in the land – it's no wonder you would smile as brightly as Morgan Freeman does in this photograph. The legend himself has got it all: the voice, the acting chops, and apparently, he also has a new fabulous hairdo! It seems that during The Lego Movie premiere at The Regency Village Theatre in Los Angeles Morgan felt his inner youth come out. Before this photo, it would be hard to image Mr. Freeman as a dashing blonde – but we have to say he's rocking this look! 
Harry Connick Jr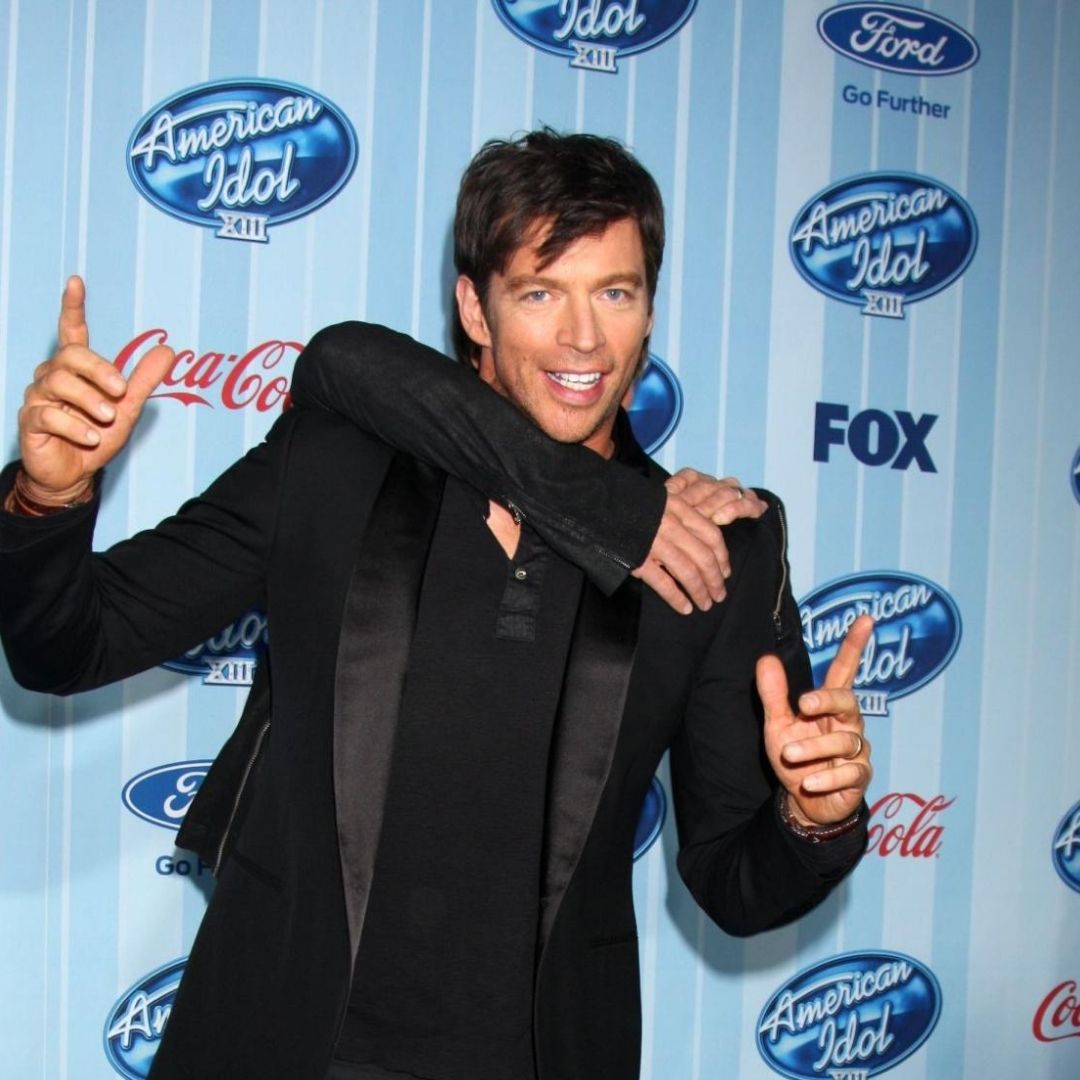 American Idol is a show all about showing off amazing talent in those individuals who would otherwise be left unknown to most. And in this case, it looks as if mentor Harry Connick Jr brought along an extra hidden talent to enjoy at a special screening of season 13 of the show. With two pairs of hands, perhaps he can perform the famous 'Hand Twin' song Joey sings in Friends. This hand is my hand, this hand is your hand, no wait that's my hand, no wait that's your hand! Little did you know, those hands belong to fellow judge and mentor, Keith Urban!
Charles Saatchi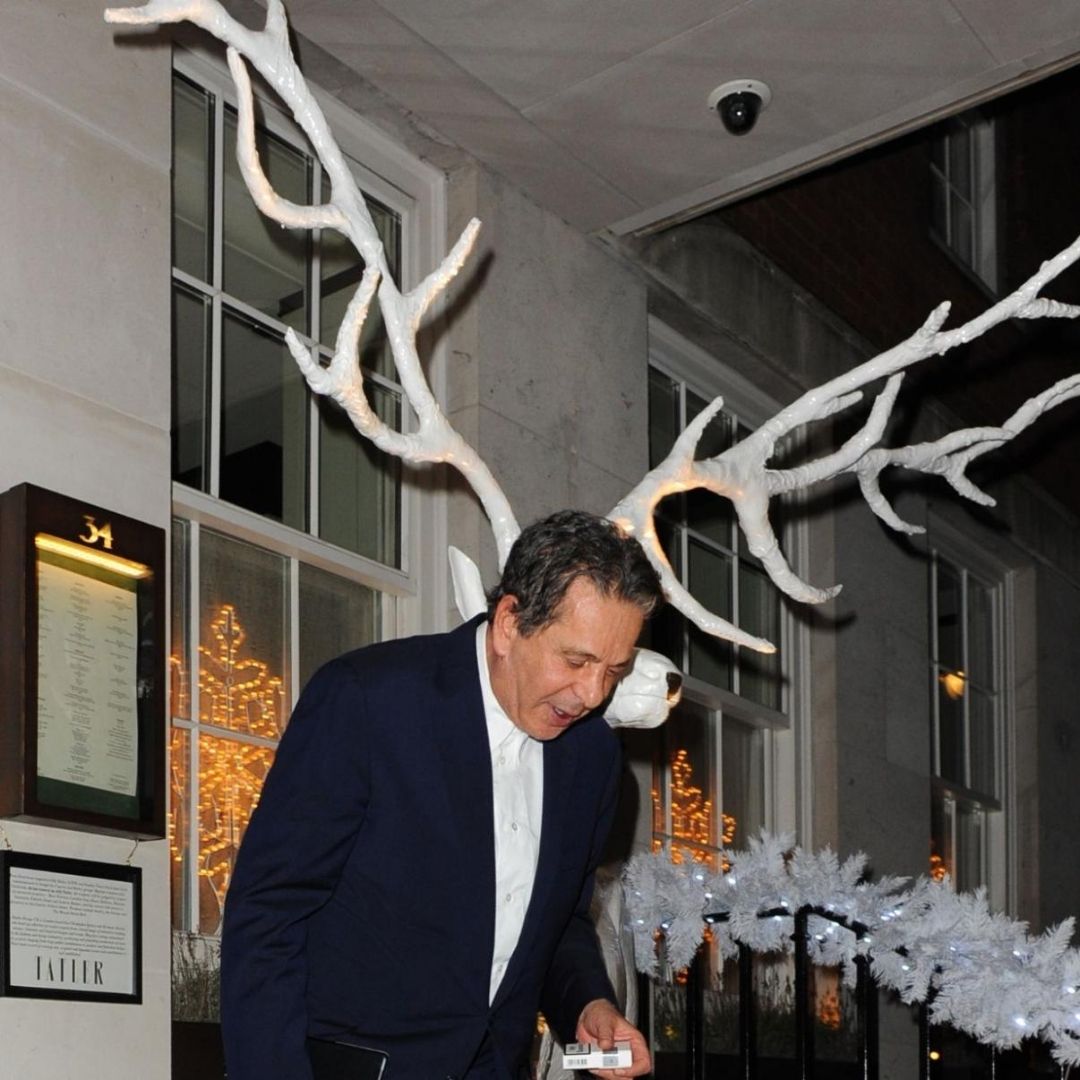 The founder of Saatchi and Saatchi, Charles Saatchi, is pictured here leaving 34 restaurant during the festive season. Christmas is a time for magic and cheer – but little did we know that Charles had wished himself to become a reindeer this festive season! There is something perfect about the timing of this photo and we would love to applaud the genius who managed to capture this image. 
Lady Gaga, born Stefani Joanne Angelina Germanotta, is best known for her out-of-this-world voice as well as her penchant for dressing in the most bizarre outfits you have ever seen. That is a possible reason why when we first took a glance at this photo, the extra arm and legs didn't really phase us. For a pop star who dressed in a meat suit one year when attending the 2010 MTV music video awards – what's a few extra limbs anyway?
Chloe Grace Moretz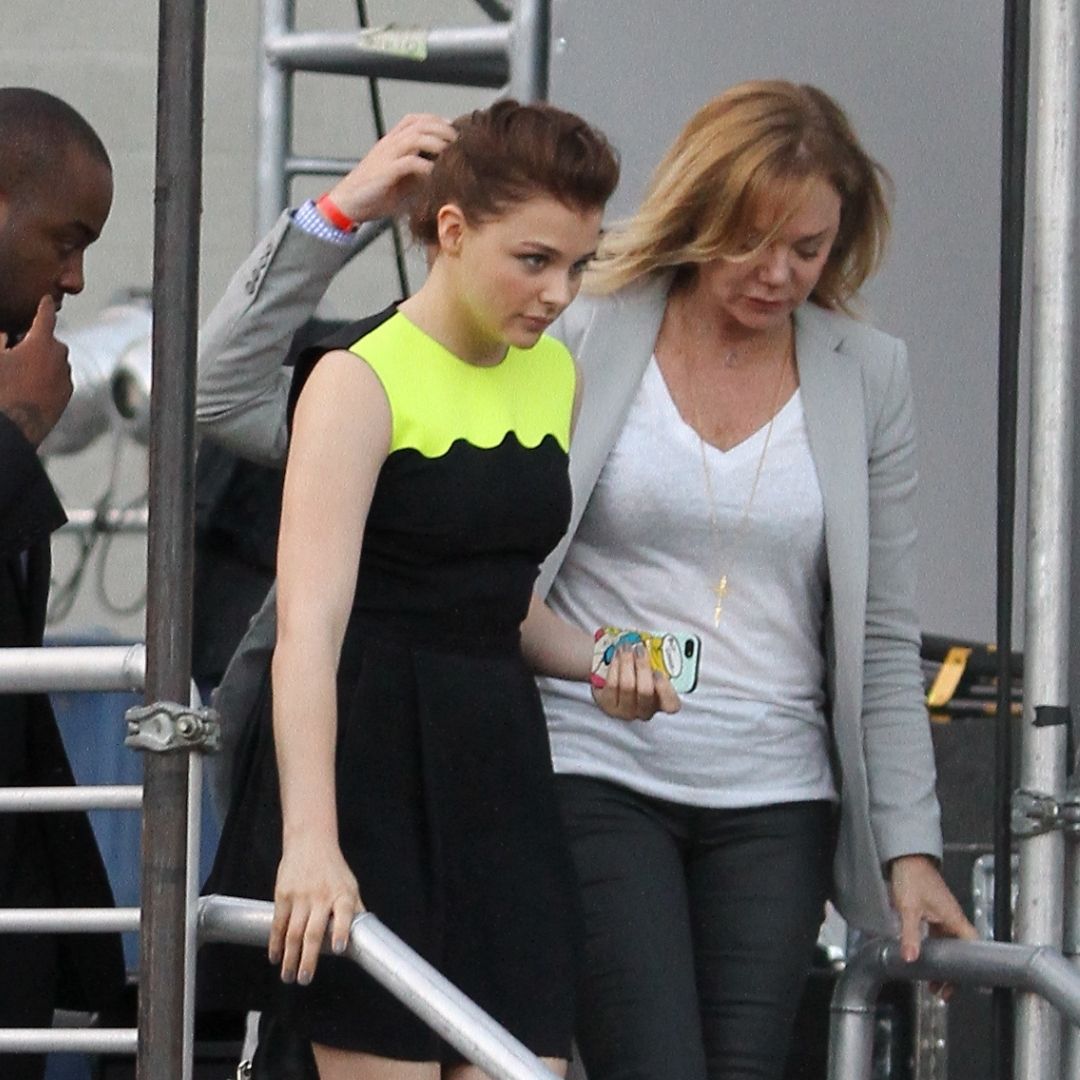 We have watched Chloe Grace Moretz grow up on the screen in the last decade. From her early appearances on Desperate Housewives to her stints starring in the Kickass movies as Hit Girl – this actress has been thrust into roles that show maturity for her age. Seeing her step out in this stunning black and yellow color block dress with her wavy chestnut hair pinned up shows us how far she has grown over her years in Hollywood. Perhaps even we underestimated how much she has grown up as we witness a manly arm appearing to adjust her updo as she walks on by. 
Tamara Ecclestone
When looking at this photo there are a lot of things that stand out. First of all, the beauty of Tamara Ecclestone's hair flowing down over her shoulders like a silky cascade of chocolate. Second of all, the interesting choice of a pair of bright red suede loafers adorning her walking partner's feet. But we have to point out the most astonishing this about this photo is this man's ability to hold an umbrella over Tamara Ecclestone's head while still holding his phone and dangling his right arm in the breeze. What a gentleman.
Dean McDermott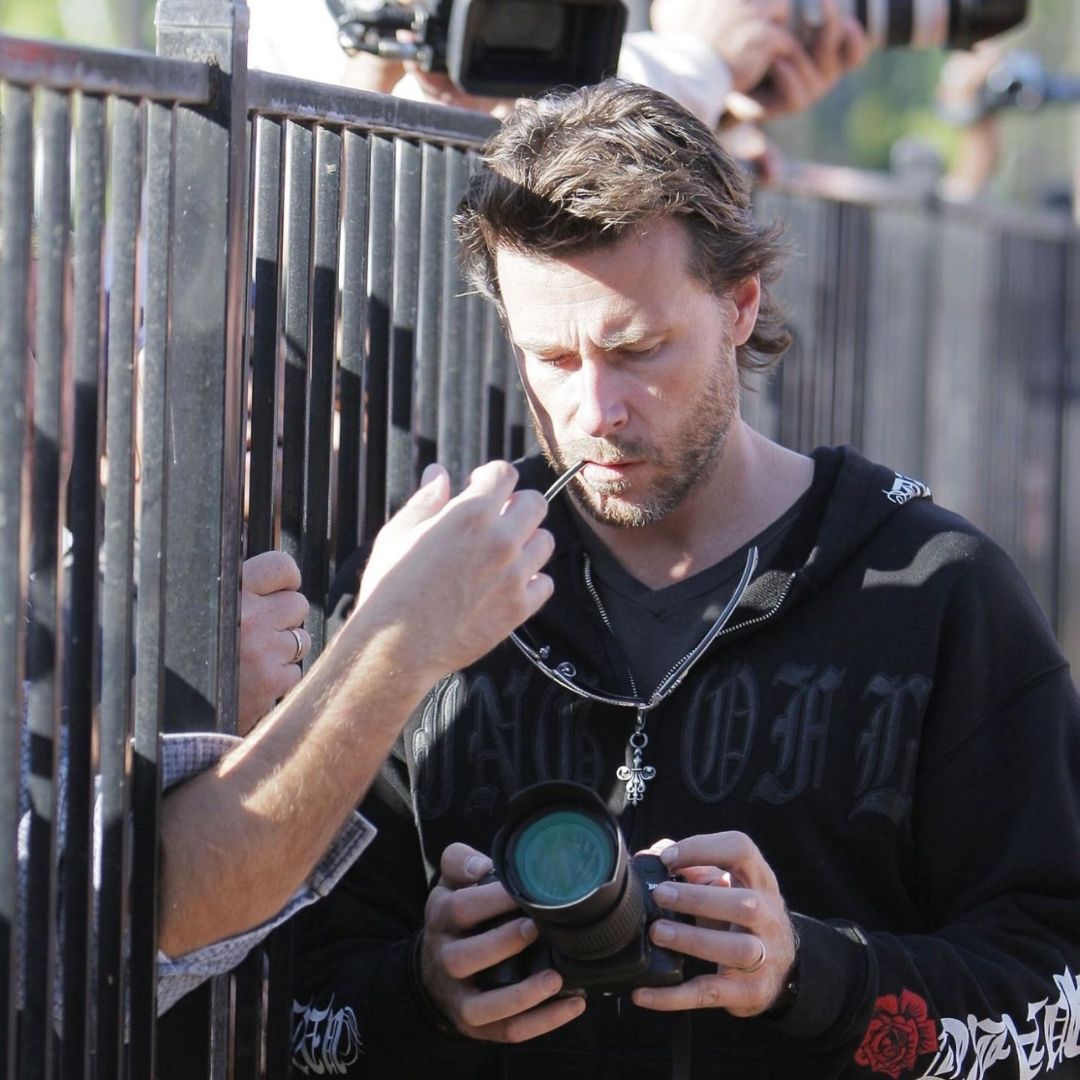 It seems that the paparazzi get a really bad wrap. They are tasked with taking photographs of celebrities in all sorts of situations to fuel the tabloids with stories of how Heidi Klum was spotted walking her son on a leash or how Morgan Freeman got a new hairdo – but Dean McDermott takes it in his stride and even joins in on the photo-taking now and again it seems. The Slasher star looks casual as he checks his latest photographs at Mr. Bones Pumpkin Patch in West Hollywood. From the framing of the photo, it seems very kind of a fan to reach through and light his cigarette… we mean pen!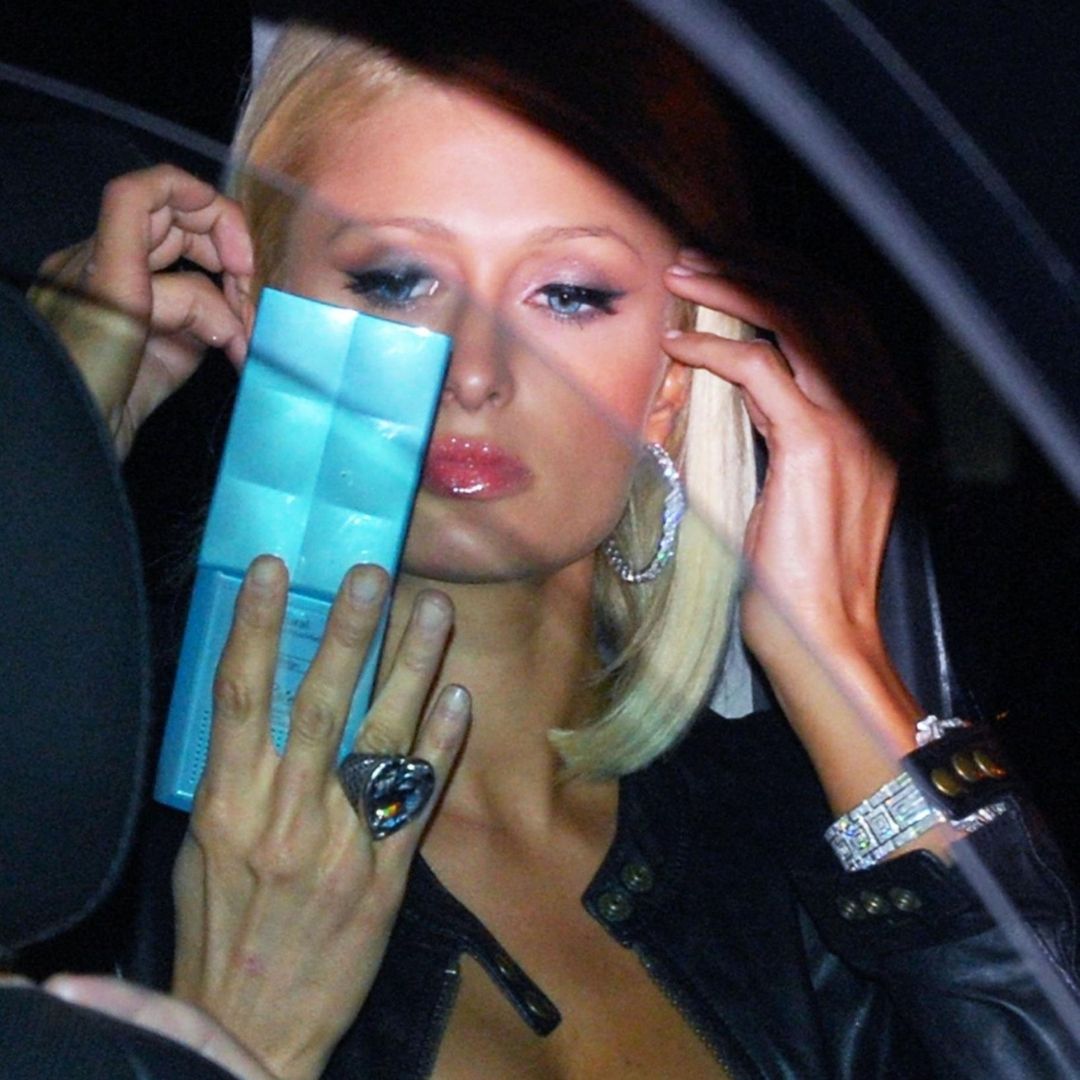 Paris Hilton has been in the spotlight all of her life, and not always for the right reasons. The model turned entrepreneur has acted as the dumb blonde for most of her life, only in 2020 revealing that this was all an act and a face she put on for the public. Her 2020 documentary delved into her life as a model, best friend, and meteor to Kim Kardashian, and her life as a businesswoman behind the scenes. Even her voice has been put on all these years! In this photo we can see the effort she put into keeping up this facade, even as she uses an extra hand to get herself looking picture perfect for the crowd. 
Jessica Biel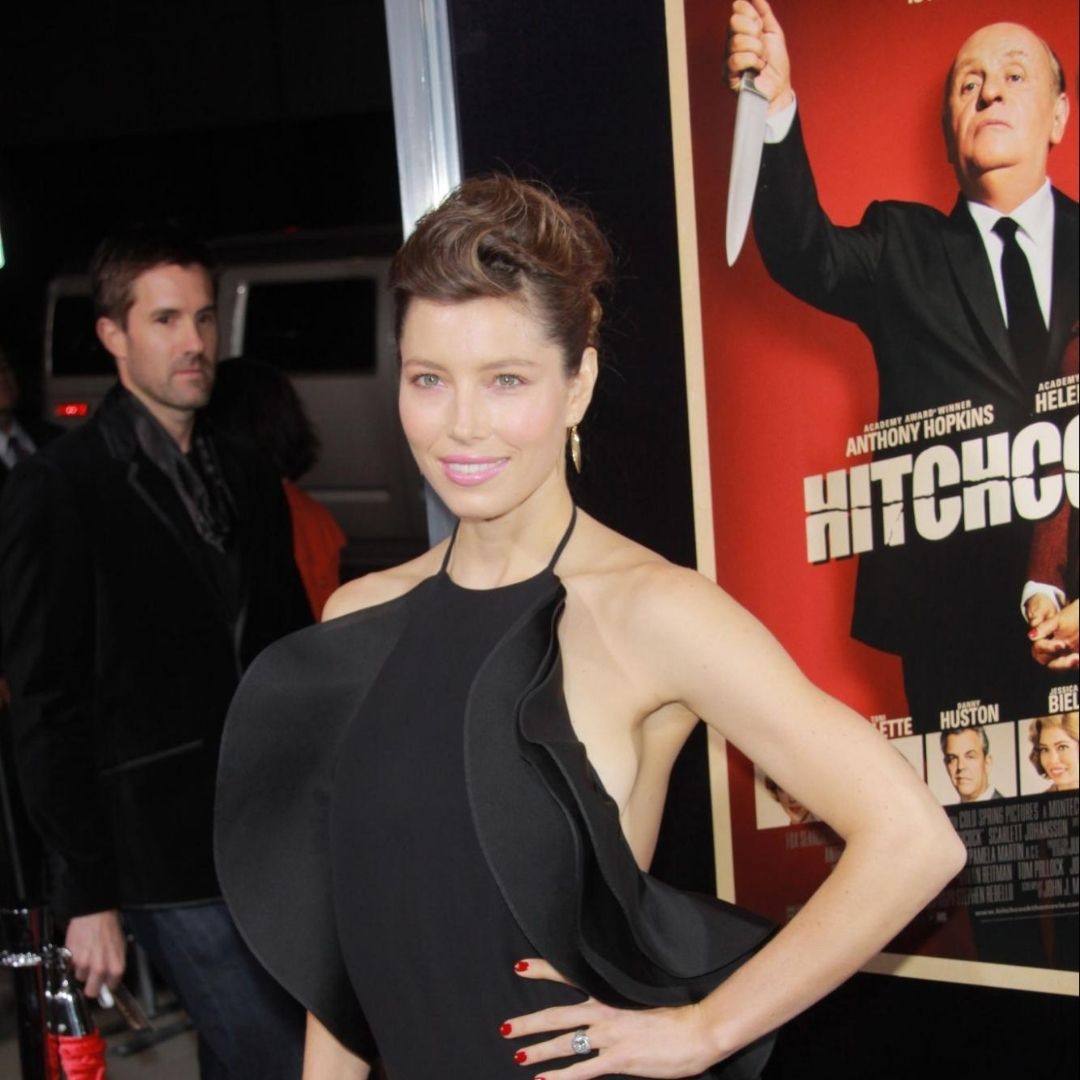 Jessica Biel can be seen posing at the premiere of Hitchcock at the Academy of Motion Picture Arts and Sciences Samuel Goldwyn Theatre. It has long been known that Jessica Biel is one of the most down-to-earth and lovely celebrities out there. She has been in the acting game for many years, and after coupling up with 90s heartthrob Justin Timberlake none of us were surprised to see her carry on her happy and normal life. But in this photograph, it looks comically as if our dear Jessica has taken a leaf from Dolly Parton's book – with an impressive looking chest that dwarfs her whole face! 
Amanda Seyfried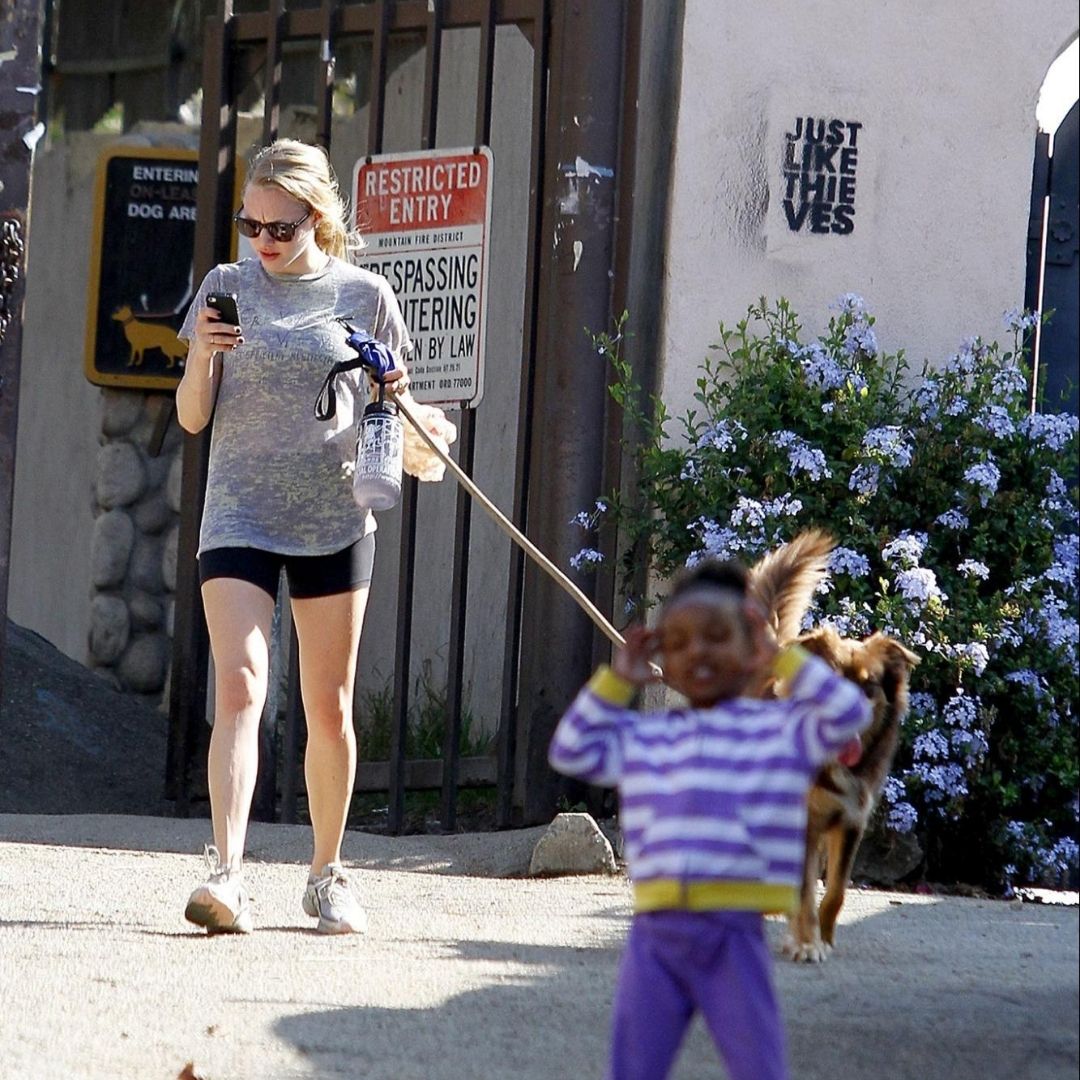 It is a famous saying that you should never work with kids or animals – and Amanda Seyfried seems to be taking this to the extreme. While out for a walk in West Hollywood with her friend and her collie dog Finn wearing a casual ensemble of a grey t-shirt and black cycling shorts – she seems to have lassoed this unsuspecting child in the foreground and is taking him for a walk instead!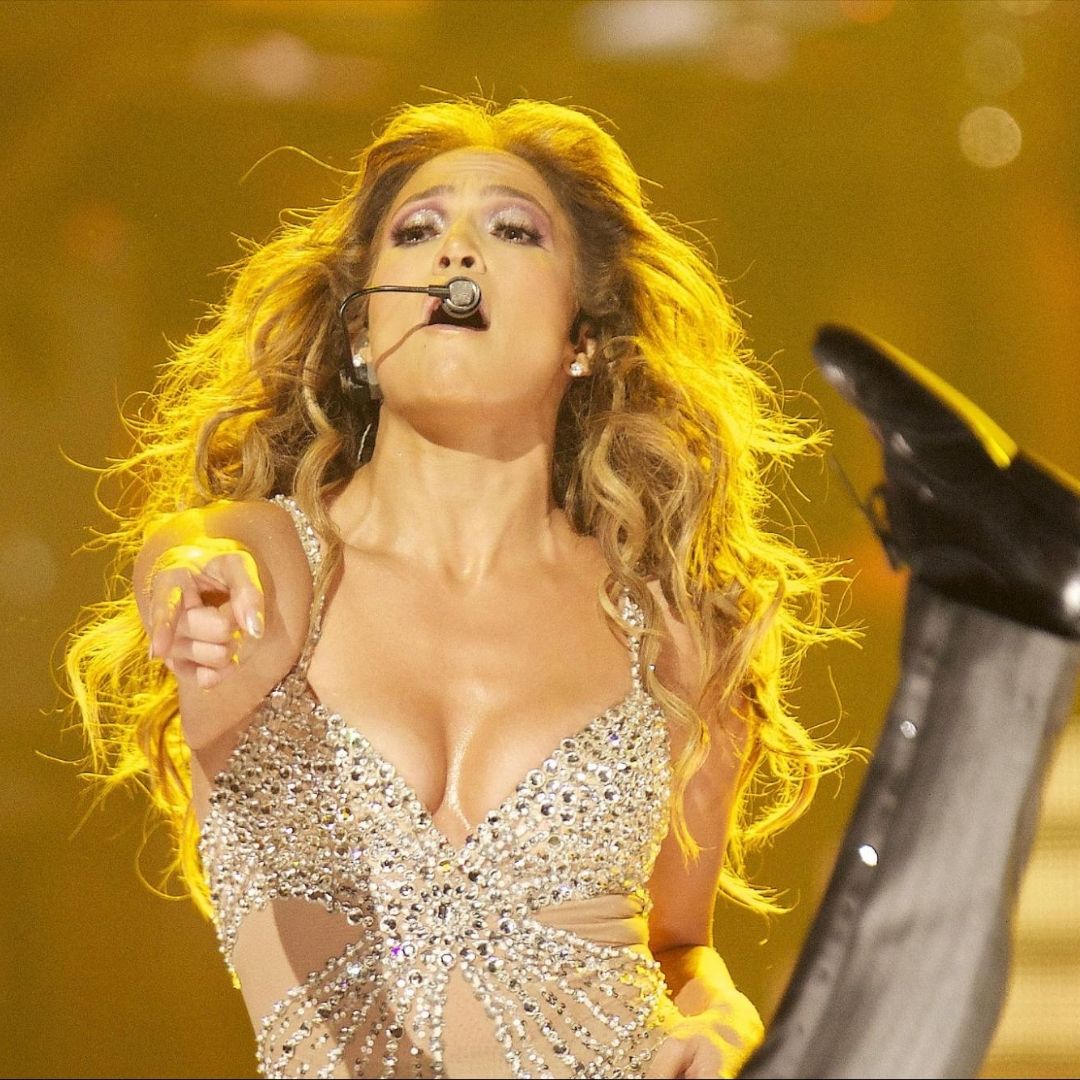 Jennifer Lopez has definitely come a long long way since her start as 'Jenny from the block'. This stunning megastar has graced both our stages and screens over the span of 3 decades and she still doesn't look a day over 35. Perhaps she is using the same vampiric anti-aging formula as Paul Rudd! In this photo taken during her performance at the Palacio de Los Deportes during her world tour 'Dance Again', she is on stage singing in a skin-tight sequined number – and with a body like hers, she of course wants to show off her flexibility. We wouldn't be too surprised if this was her actual leg in the air because this woman can do anything!
Ricky Wilson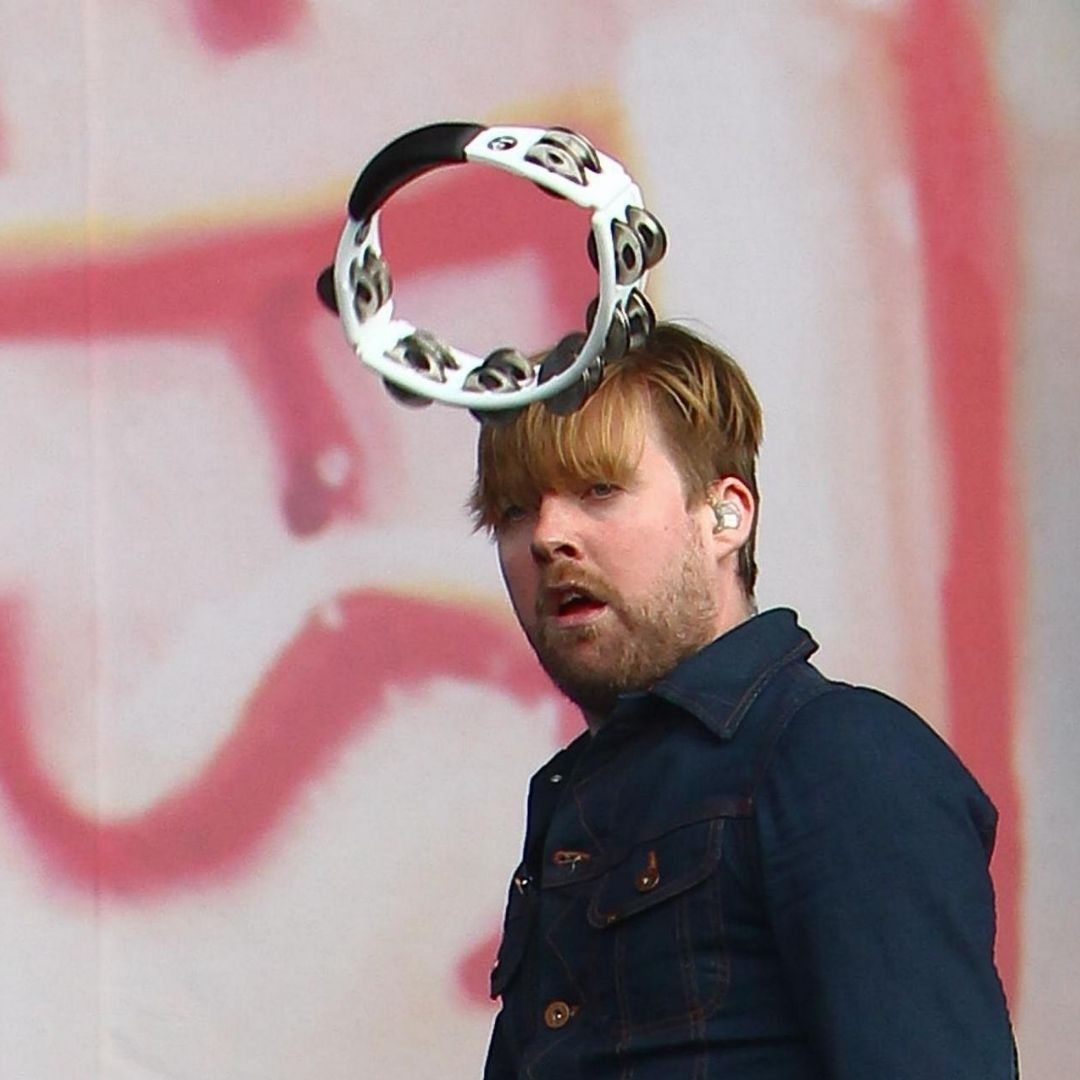 Yet another talented ginger on the stage – Ricky Wilson heads up the English band the Kaiserchiefs. The Indie rock band hails from Leeds and has been topping the charts for many years as well as Ricky leaping TV with his work as a judge on The Voice UK. In this photo, we see Ricky singing – presumably about Ruby or a Riot he predicts for the imminent future. During the Reading Festival 2021 he performs Day 3. But poor Ricky, by the name of his band we know he wants to be an emperor, but a tambourine is not the same as a crown! When will he learn? 
Scott Ian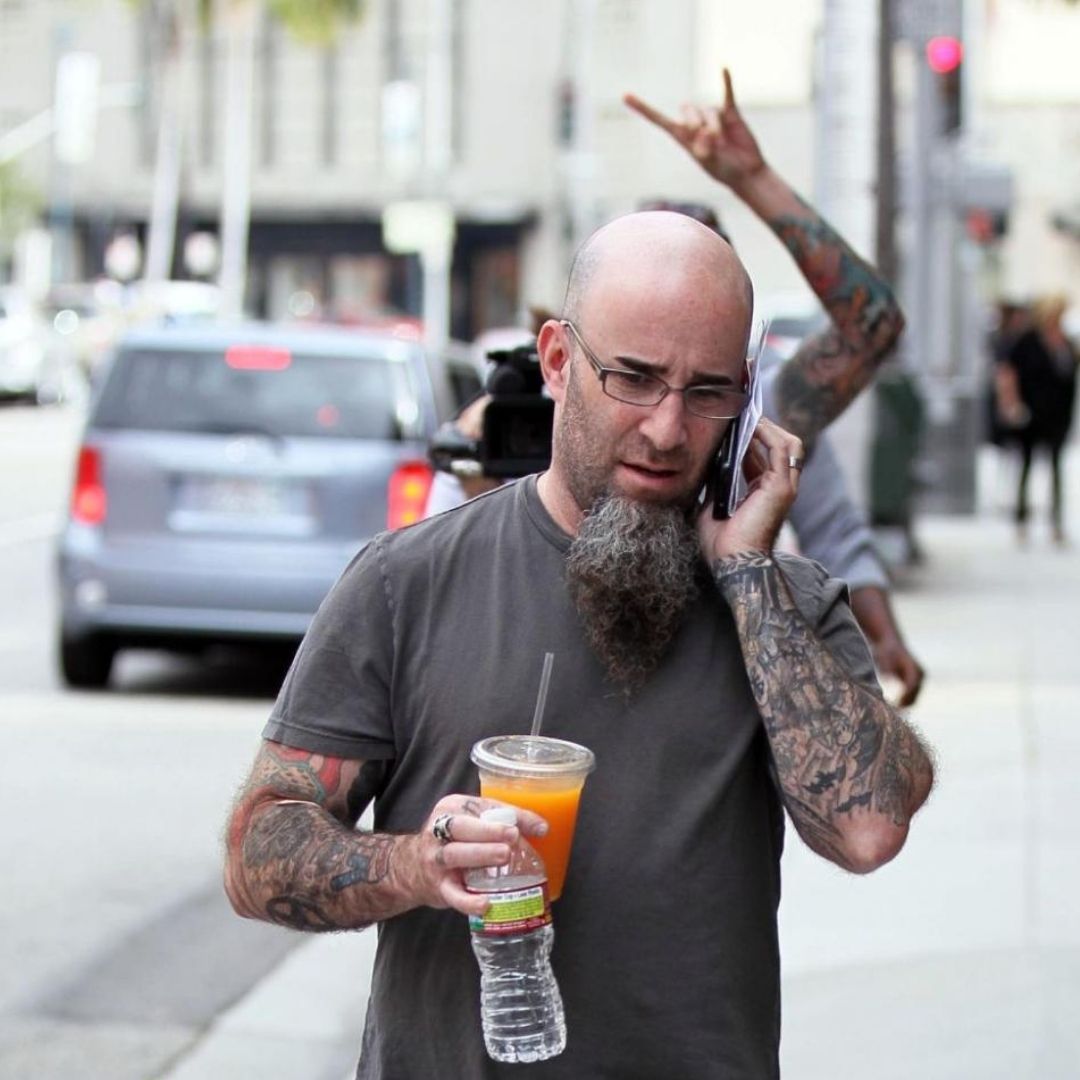 Sometimes you can just see the spirit of a true rockstar inside and out. Even as he walks down the street casually holding a bottle of water while talking on the phone, the rocker within can't help but escape Scott Ian and we see a third arm rocking away above his head. The co-founder of the thrash metal band Anthrax walks casually down the street as a fan behind him excitedly gestures. The tattoos on the third arm make this illusion even more believable and fun!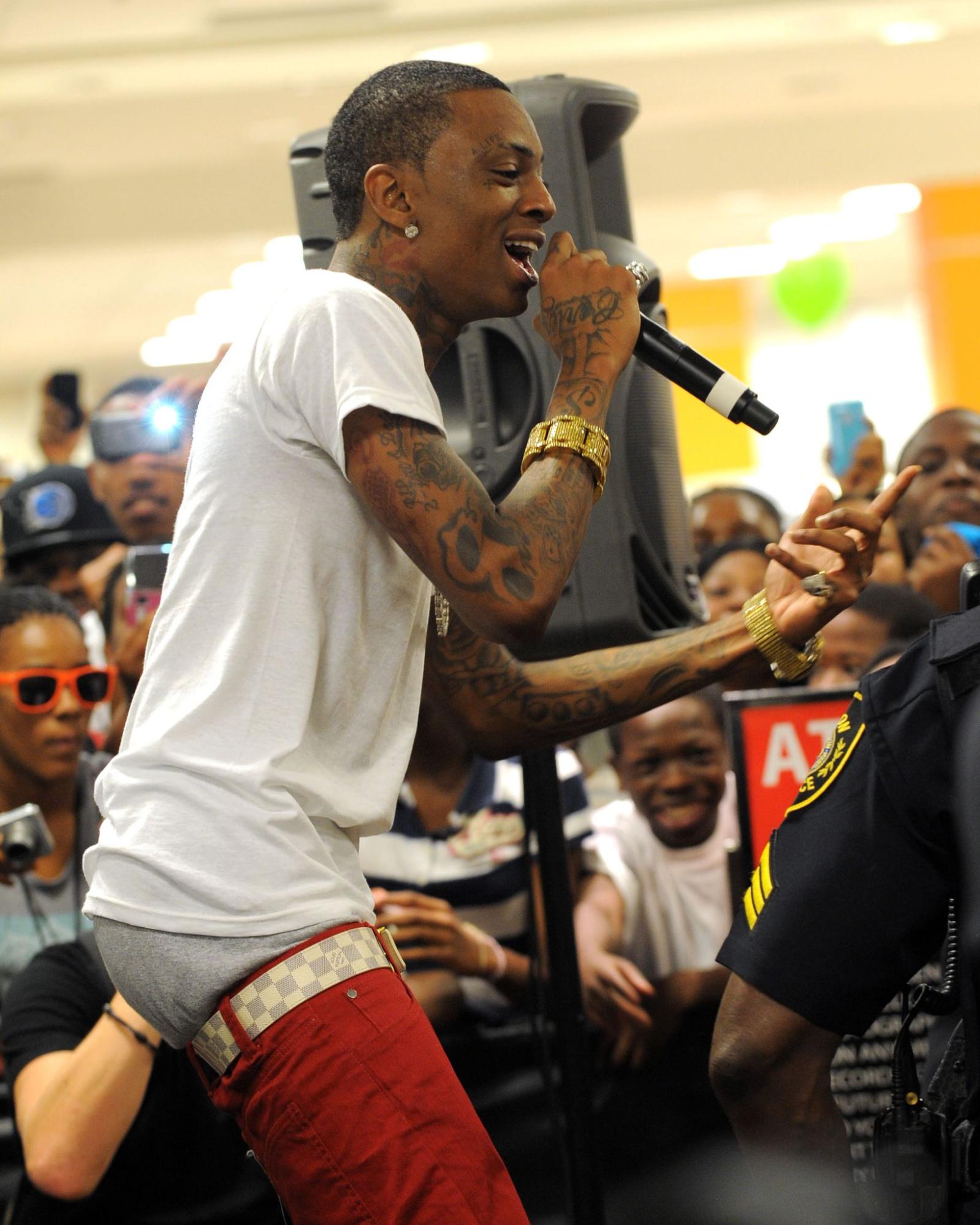 During a rap performance, we can see Soulja Boy with his signature swagger and he trips bars in front of an excited crowd at Macy's in Ft Lauderdale, Florida. But what he might not have anticipated was the man who decided his low-worn trousers were the perfect invitation to perform a rectal exam – not unlike a vet to a cow. A lesson can be learned here; pull your pants all the way up or you might become a veterinary patient.
Vanessa Hudgens and Austin Butler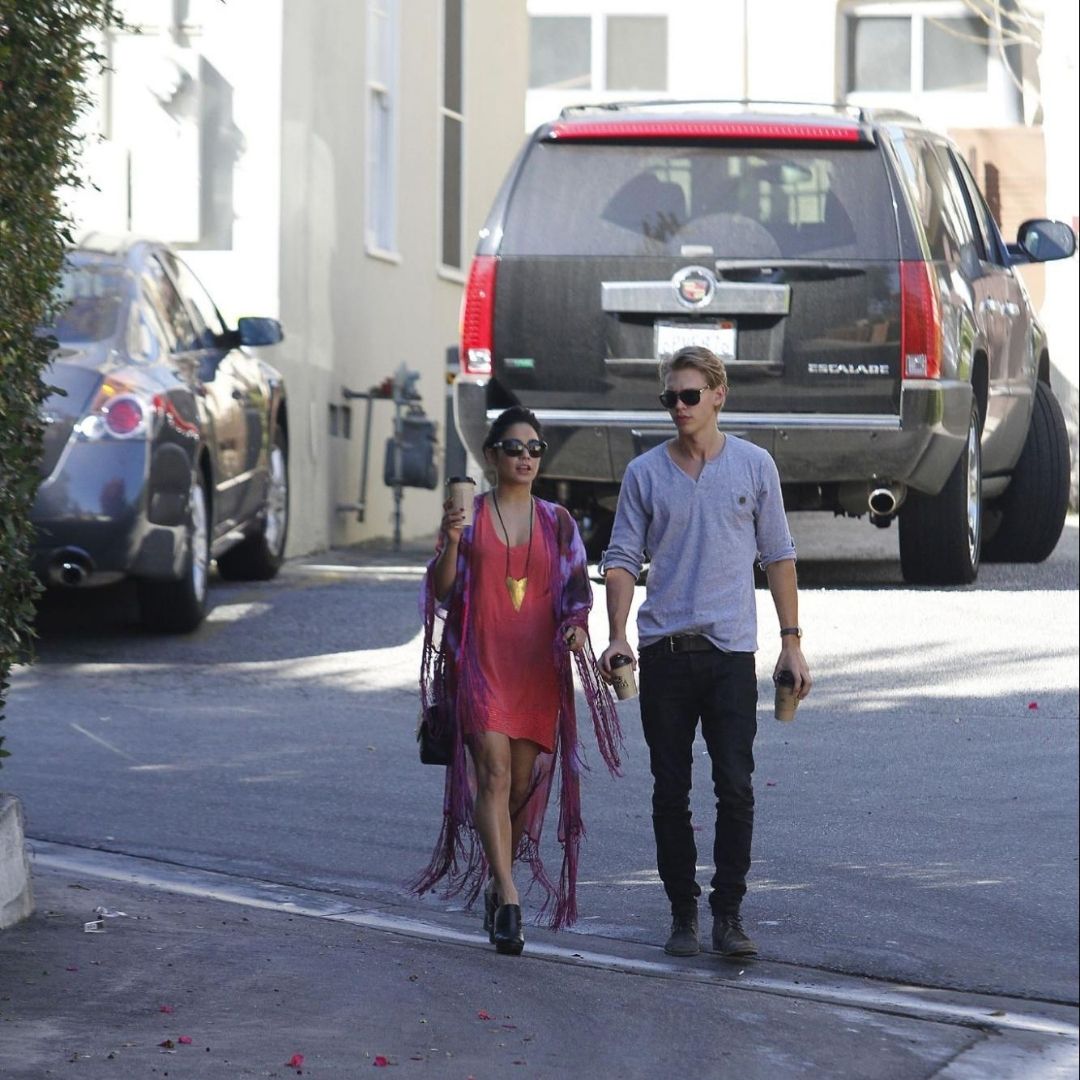 Taking photographs of unsuspecting celebrities living their daily lives is the norm, and this photo encapsulates the normal lives of Vanessa Hudgens and her blonde beau, Austin Butler, very well as they grab breakfast in Studio City. It seems that since the days of High School Musical Vanessa has moved on from tall dark and handsome to tall blonde and handsome. The two can be seen here strolling down the street in the summer sun, but what catches our eye about this photo is not only the bright getup she is rocking. The Cadillac Escalade behind these stars is known to be a larger SUV model, but we doubt it's quite this big!
Ashley Robert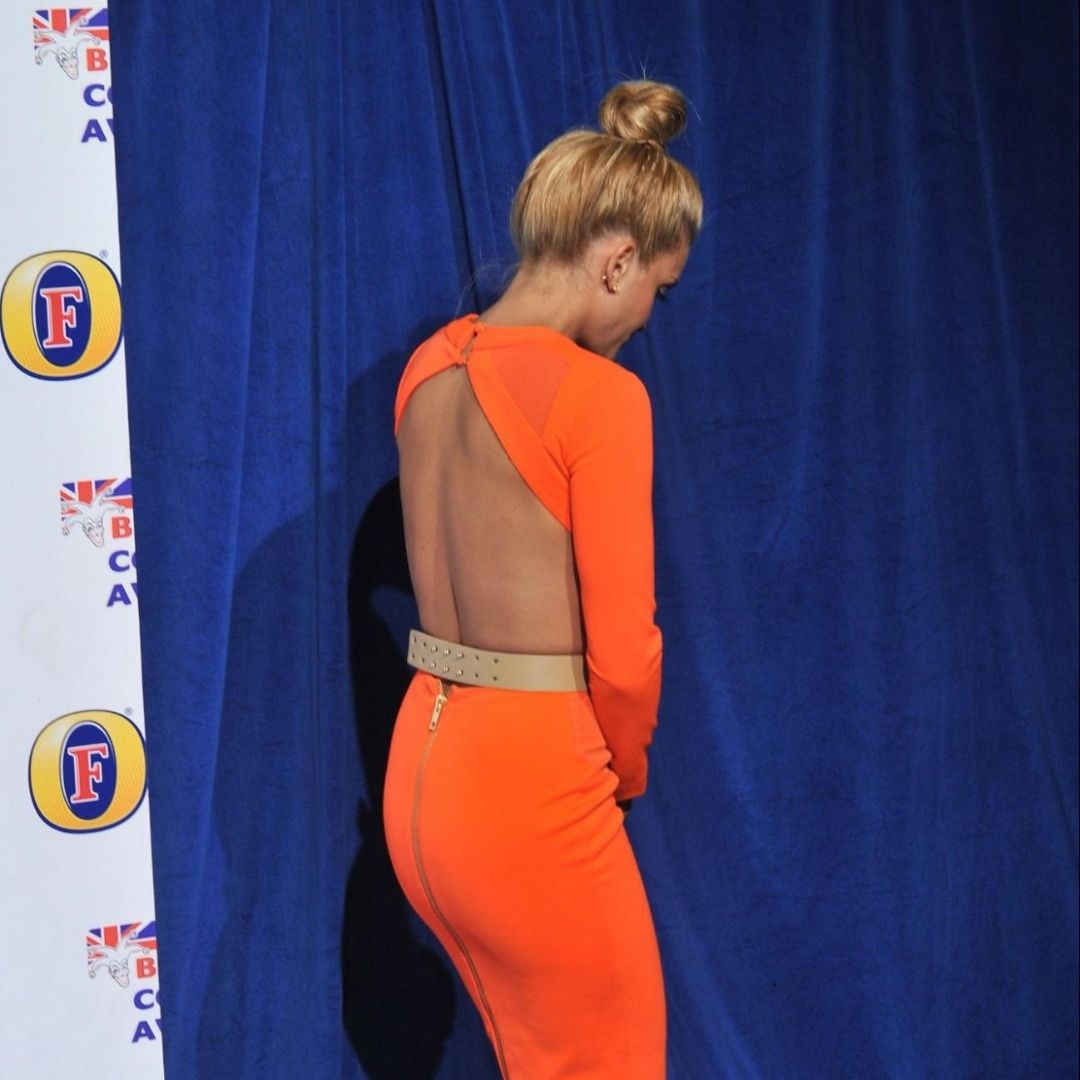 Ashley Robert stands with her back to us in this image on a sparkly blue carpet for the Barclaycard Mercury Music Prize held at the Roundhouse. Her hair is up in a top knot, and she is wearing the boldest shade of tangerine in a form-fitting style along with simple sandy-colored heels. With a wall plastered with the logo for Foster's lager, it is safe to say that Ashley Robert may have had a drink too many before gracing this blue carpet and she looks to be in the middle of peeing. We hope she doesn't stain her clothes!
Harry Styles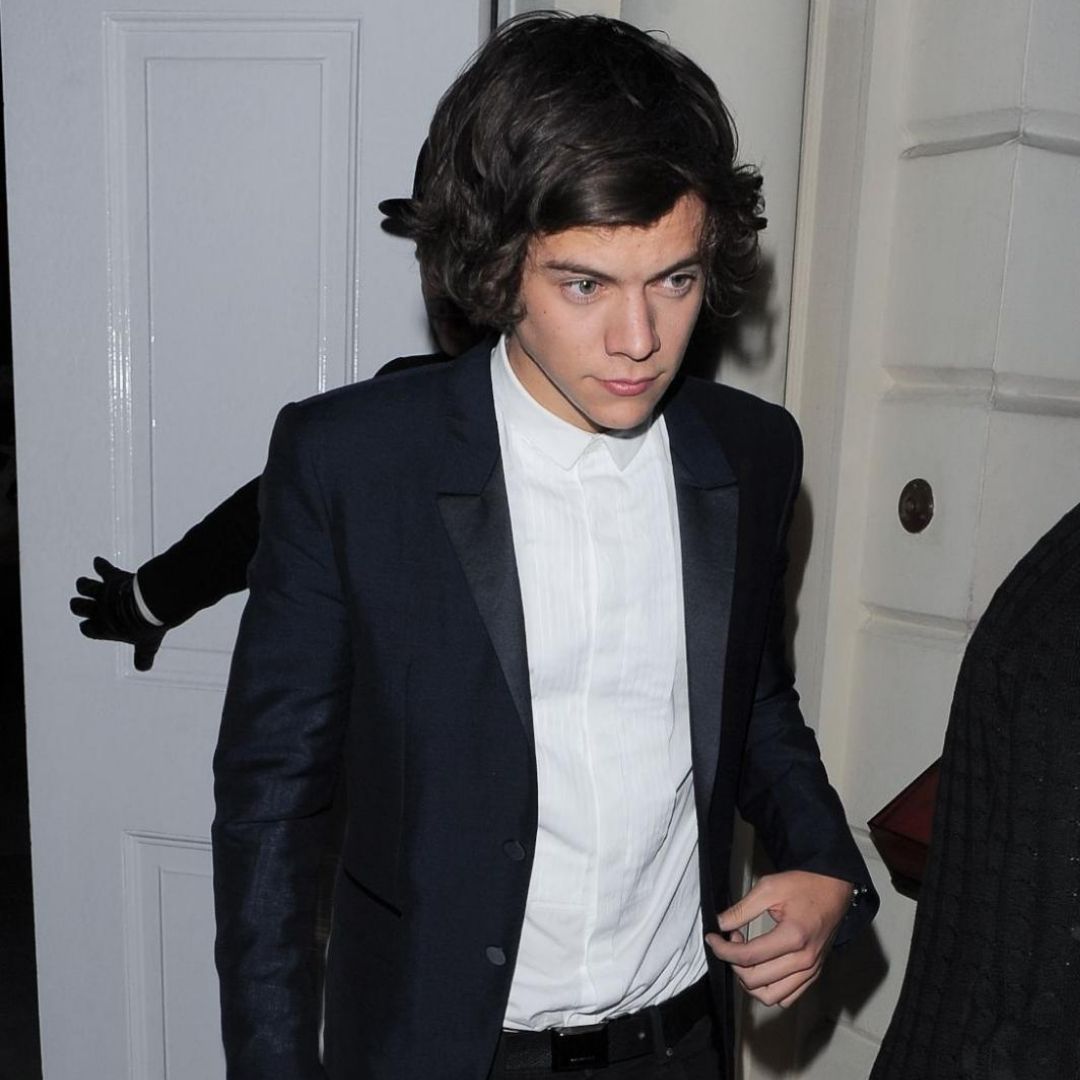 After his rise to fame as the heartthrob in One Direction; Harry Styles has added a lot of things to his resume of experiences. First becoming the next in a long list of subjects for Taylor Swift's songs, then acting in an Oscar-nominated film Dunkirk, and finally wearing a dress for the cover of Vogue and pretty much breaking the internet along with it. But in this photo, it seems magician is another thing Harry can add to the list – as this photo gives the illusion that he has a magical hand coming out from behind him holding a door open for those following him, just like any proper English man would. 
Jeremy Renner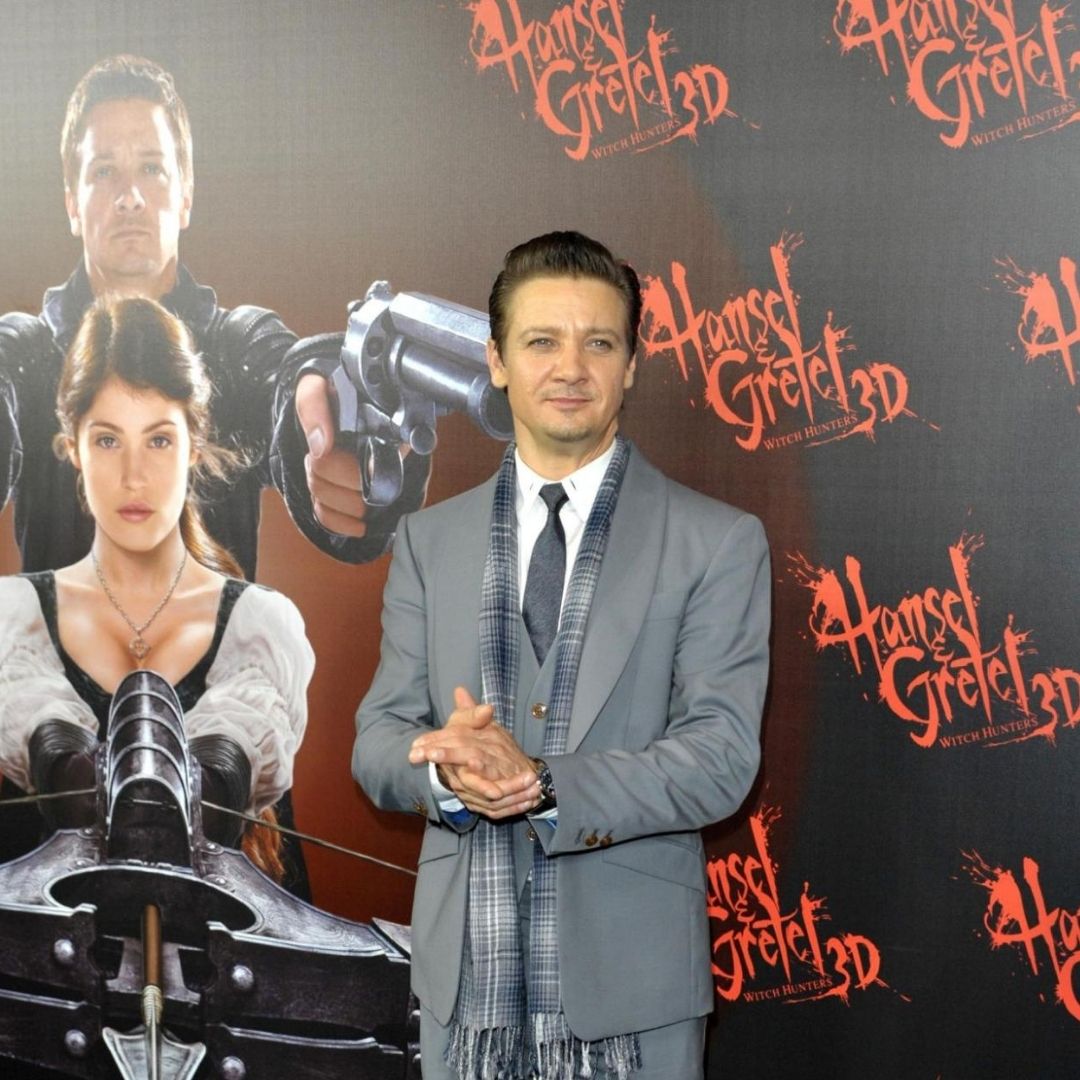 Jeremy Renner in recent years has become a well-loved member of the Marvel Cinematic Universe family and his appearance as Clint Barton 'Hawkeye' in Avengers Endgame was a particularly brilliant turn for the actor. Not all of his films have been a roaring success though, and Hansel and Gretal: Witch Hunters only got 64% on Rotten Tomatoes with an audience score of 23%. Perhaps that's why our time-traveling superhero appeared in this movie poster looking to stop himself from finding out the bad news. Luckily, this didn't end like the post-credits scene of Deadpool 2 though – and Renner has been able to play Hawkeye as well as a ninja badass in the hit comedy Tag. 
Cara Delevingne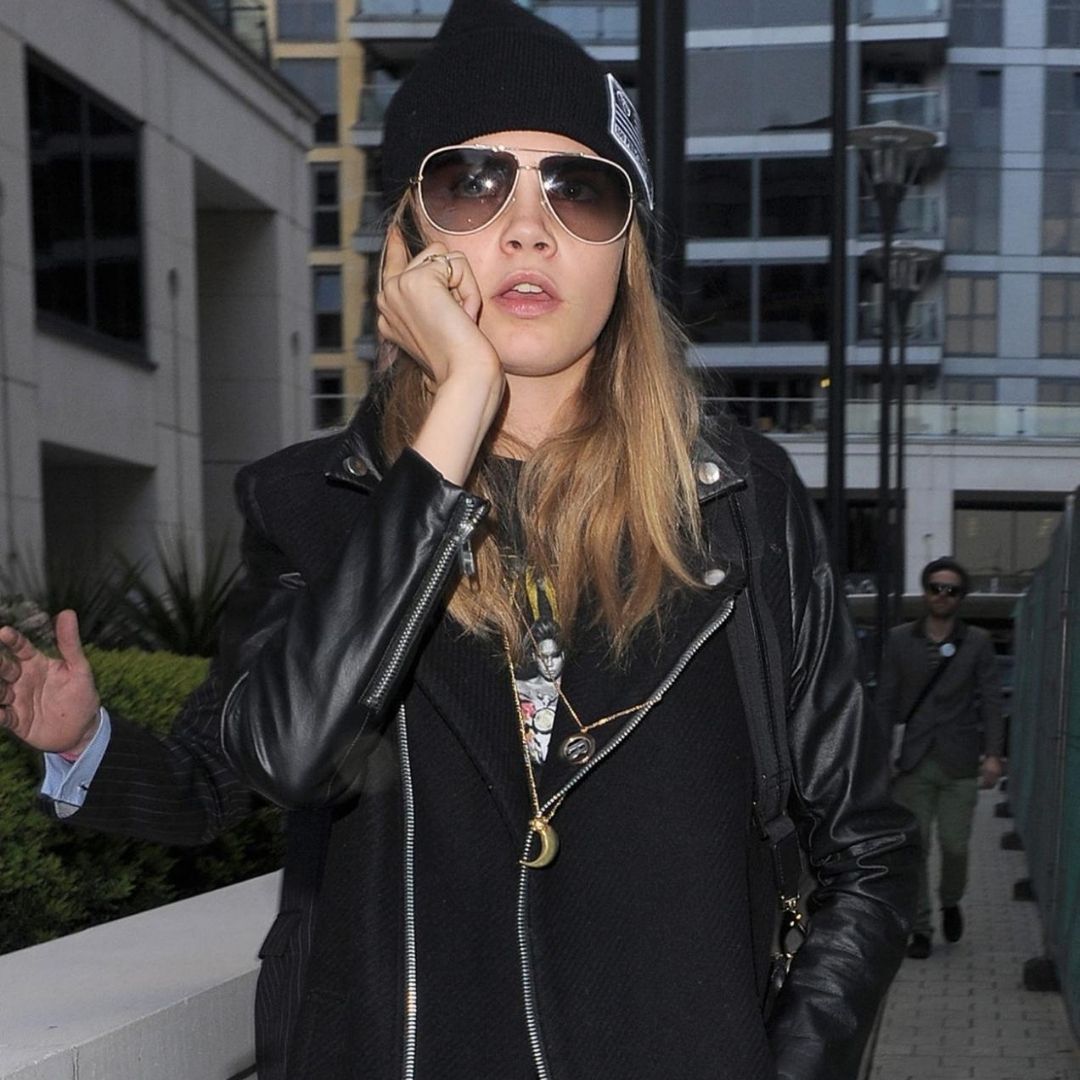 Cara Delevingne is one of a generation of young models who have effectively taken over the world in the last 10 years. Along with the likes of Gigi and Bella Hadid, Cara has been a huge influence on pop culture in the 2010s and 20s so far, and her impressive eyebrows are partially to thank for this. Even with her work as an international model and voice actor on GTA V Online; as she arrives at a friend's house it seems Cara longs for her time on Suicide Squad as in this photo her inner Enchantress comes back out showing her extra arm. Even with extra appendages, Cara never fails to look flawless in every image. 
Irina Shayk 
As stunning as a woman could possibly be – this image of Irina Shayk wows us all. Her radiant skin shines bright; the delicate lines of her body perfectly accented in this black gown; the man reaching for her breast truly sets off the look. Wait, something is off here, isn't it? Irina attends the 66th Cannes Film Festival for the All Is Lost Premiere. Despite looking like the epitome of a Hollywood star on the red carpet, the humorous position of the photographer just can't be ignored.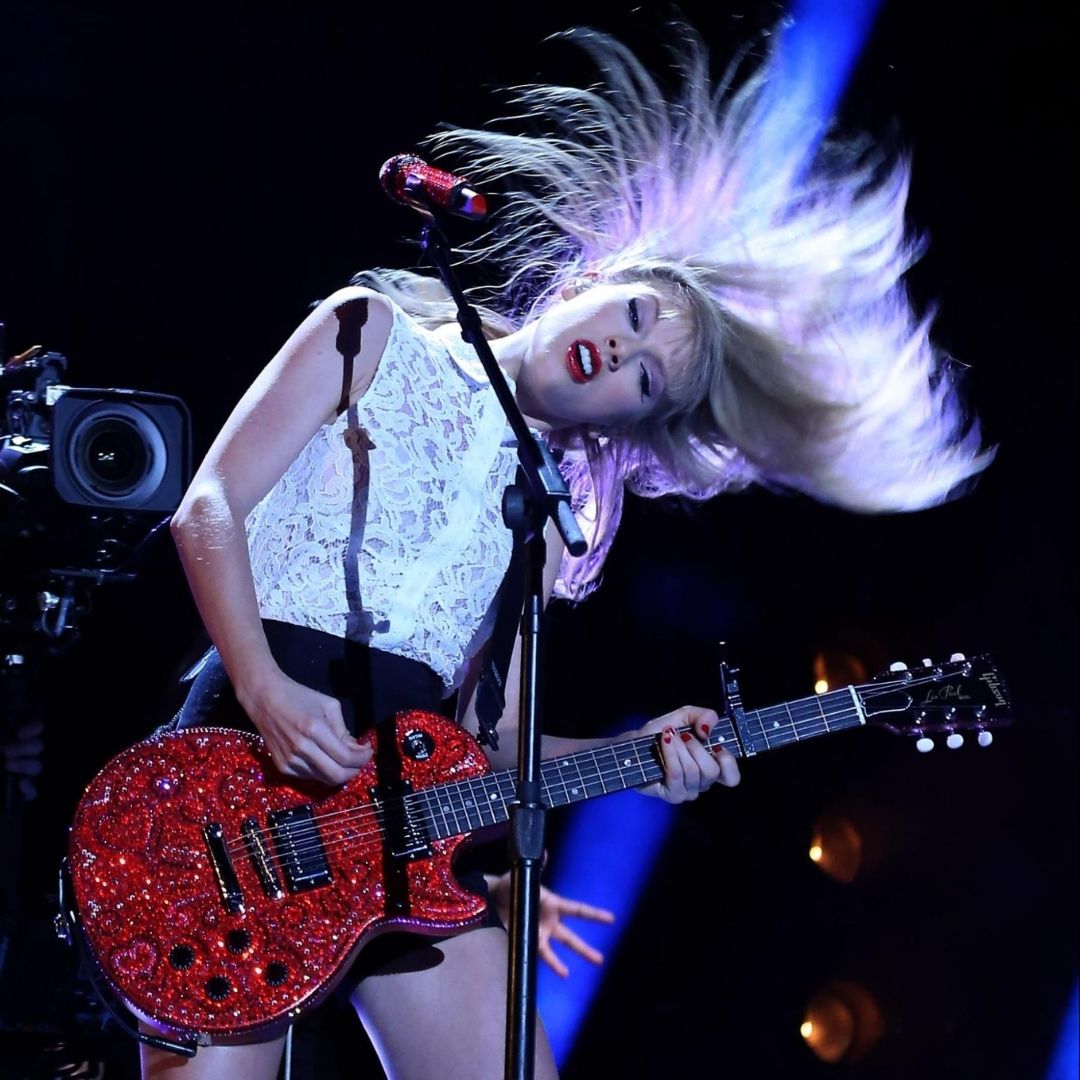 How many hands does it take to count all of the famous men who have inspired Taylor Swift's songs? Three apparently. We jest of course. Taylor Swift recently beat a long-standing record of The Beatles to become the first artist to have 3 number one charted albums in a duration of just 364 days. She is a true talent for sure, and maybe this magical extra hand is what helps her to write so many hits in a short space of time. Here she performs on day 1 of the 2013 CMA Music Festival looking like a true country chick turned pop princess. You keep it up, girl. 
Taylor Lautner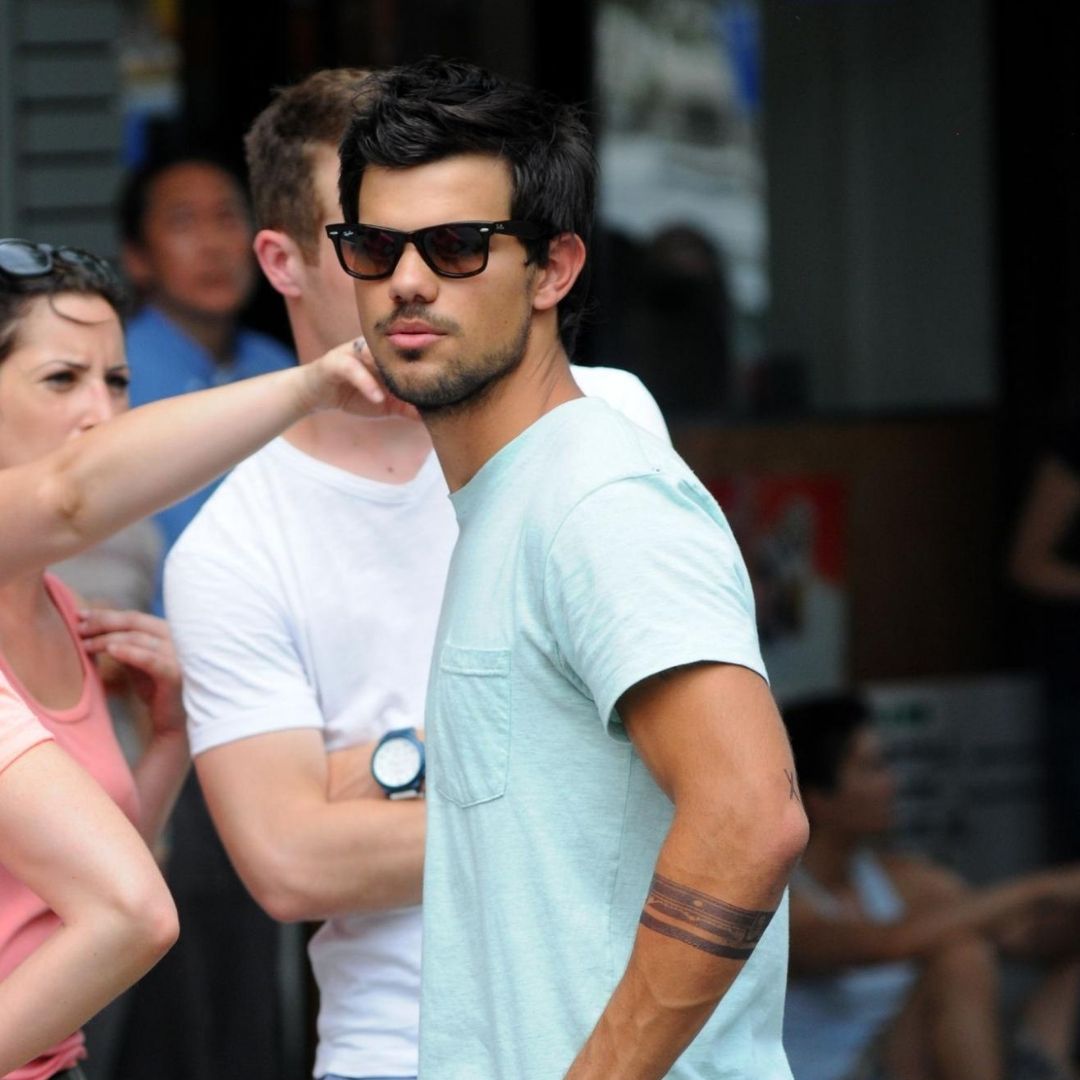 From Shark boy to Wolfman, and briefly one half of the Taylor Twins – Taylor Lautner went from adorable child actor to muscular heartthrob in less time than it takes to binge-watch the Twilight films back to back. While filming Tracers on location in Manhattan, Taylor clearly still has supernatural powers and the woman behind him might be hoping to tap into them. Either that or she is just trying to stroke his hair. Team Jacob all the way. 
Jennifer Lopez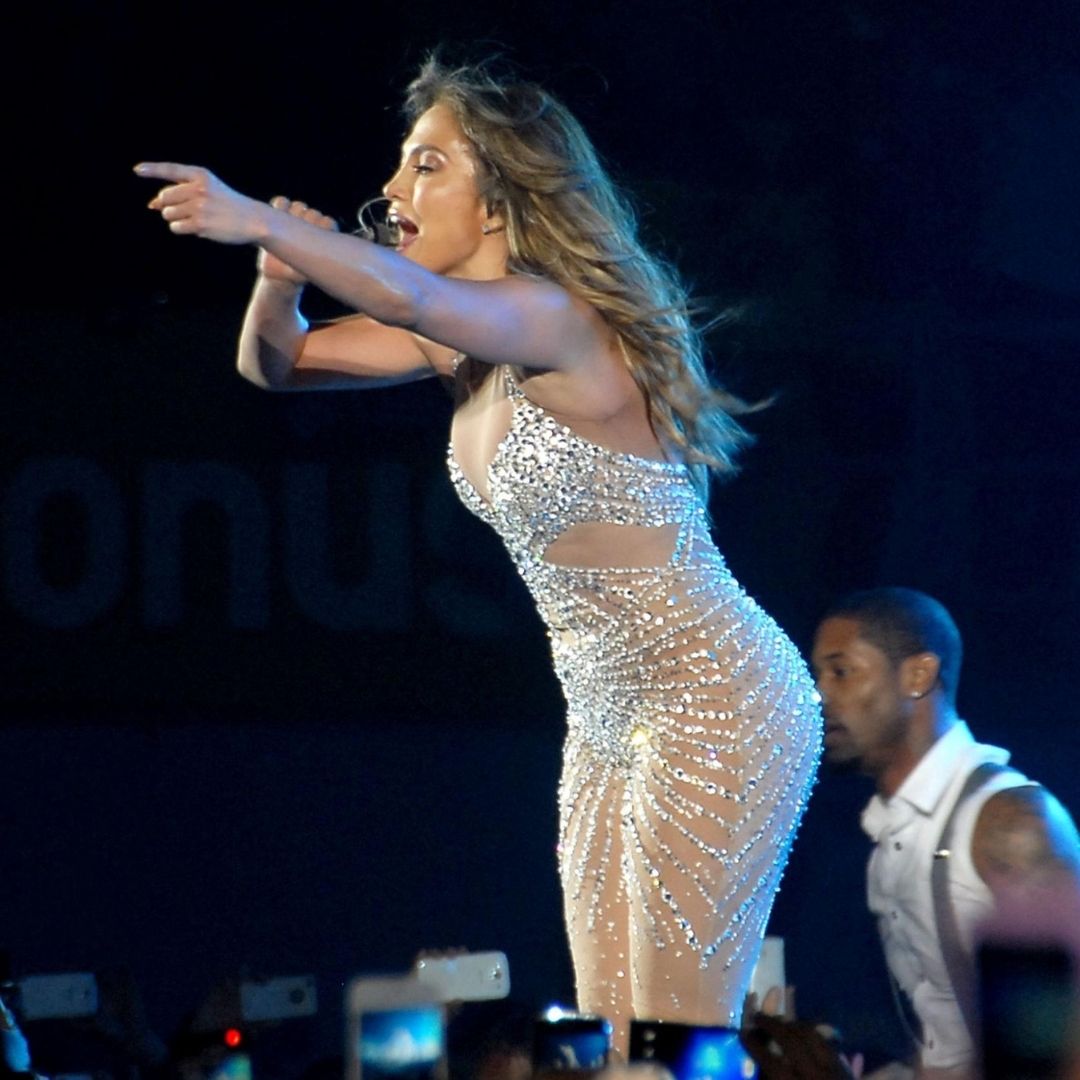 It looks like Jen has taken another trip around the block and this is her second appearance on our list today. While on stage performing live in concert at Atakoy Athletics Hall, it seems that a member of her dance troupe has decided to get a little too close to her infamous rear. We know Jennifer has a famous derriere, but there's no need to get up close and personal! 
KT Tunstall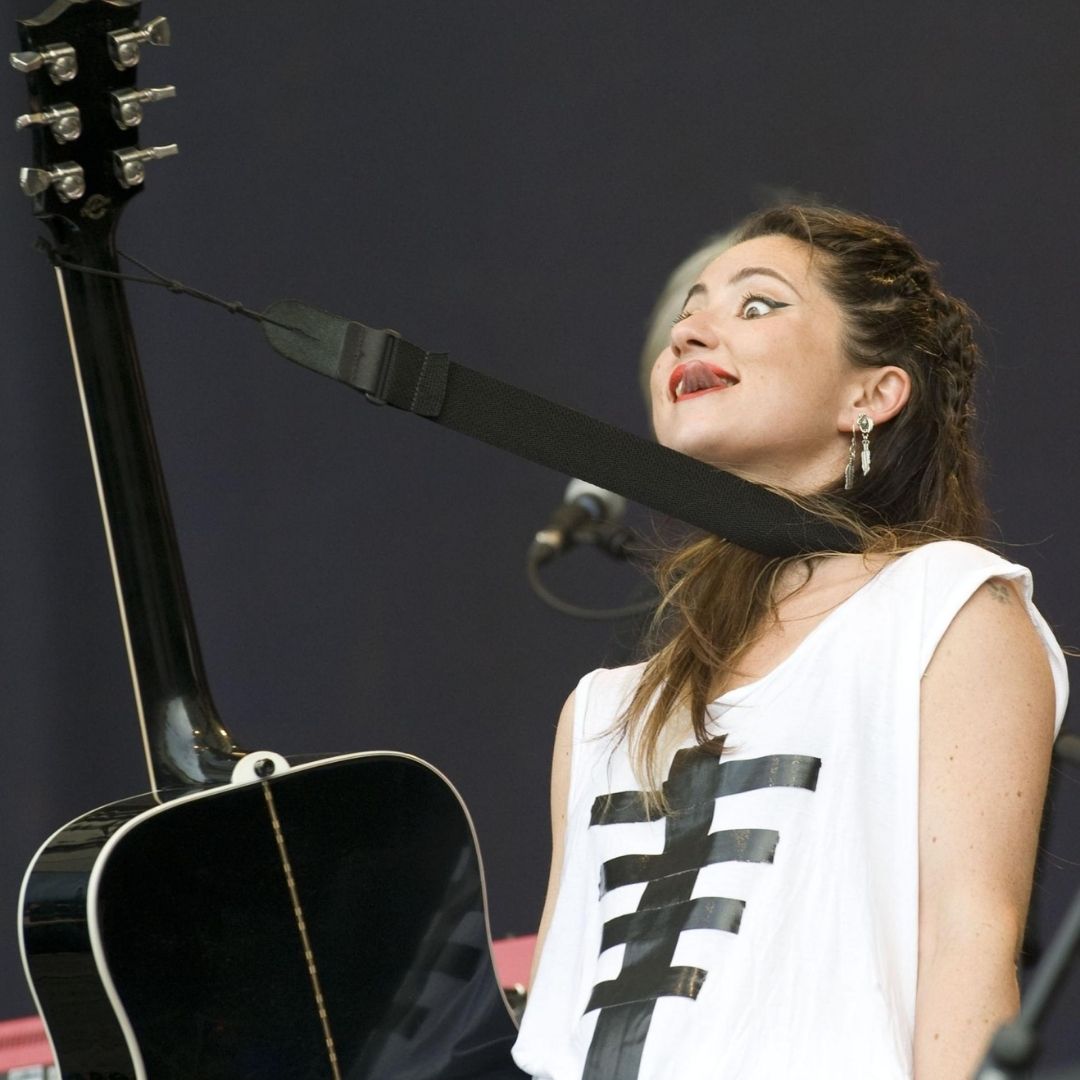 Gracing the stage with a black guitar, white tee with what looks like strips of black duct tape, and a simple winged liner – KT Tunstall is ever the rock star. This image is from the Henham Estate in Suffolk during the Latitude festival. Here she performs with such fervor that she almost looks as if she's been possessed by the devil. If there is a remake of the Exorcist, we get behind her as the lead.
Halle Berry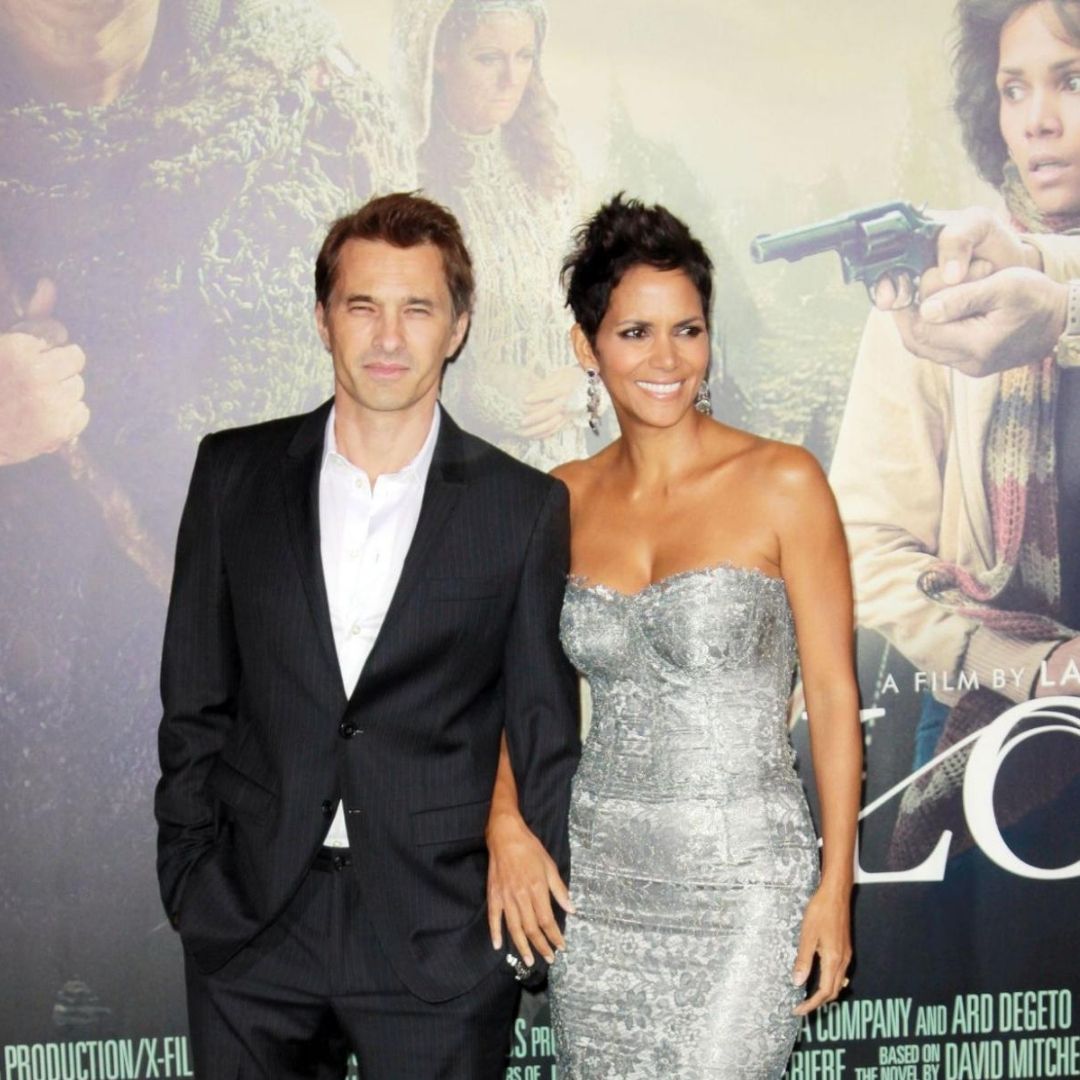 Halle Berry has had a lot of diverse roles throughout her career on the big screen. From fan favorites such as John Wick 3 and the X Men movies to a disastrous appearance as Catwoman in 2004. She is pictured here with her partner Olivier Martinez at the Los Angeles premiere of the star-studded film Cloud Atlas. Martinez and the father of Berry's daughter Gabriel Aubry don't get along. And they have frequently come to physical blows, with there even being one instance where Martinez threatened to kill Aubry if he did not allow them to move with Berry's daughter to France. Personal drama aside, this photo shows an off-screen character pointing a gun at Halle. It would seem like someone is not a fan of Berry's portrayal of the famous feline anti-hero. It's probably the basketball scene that did it.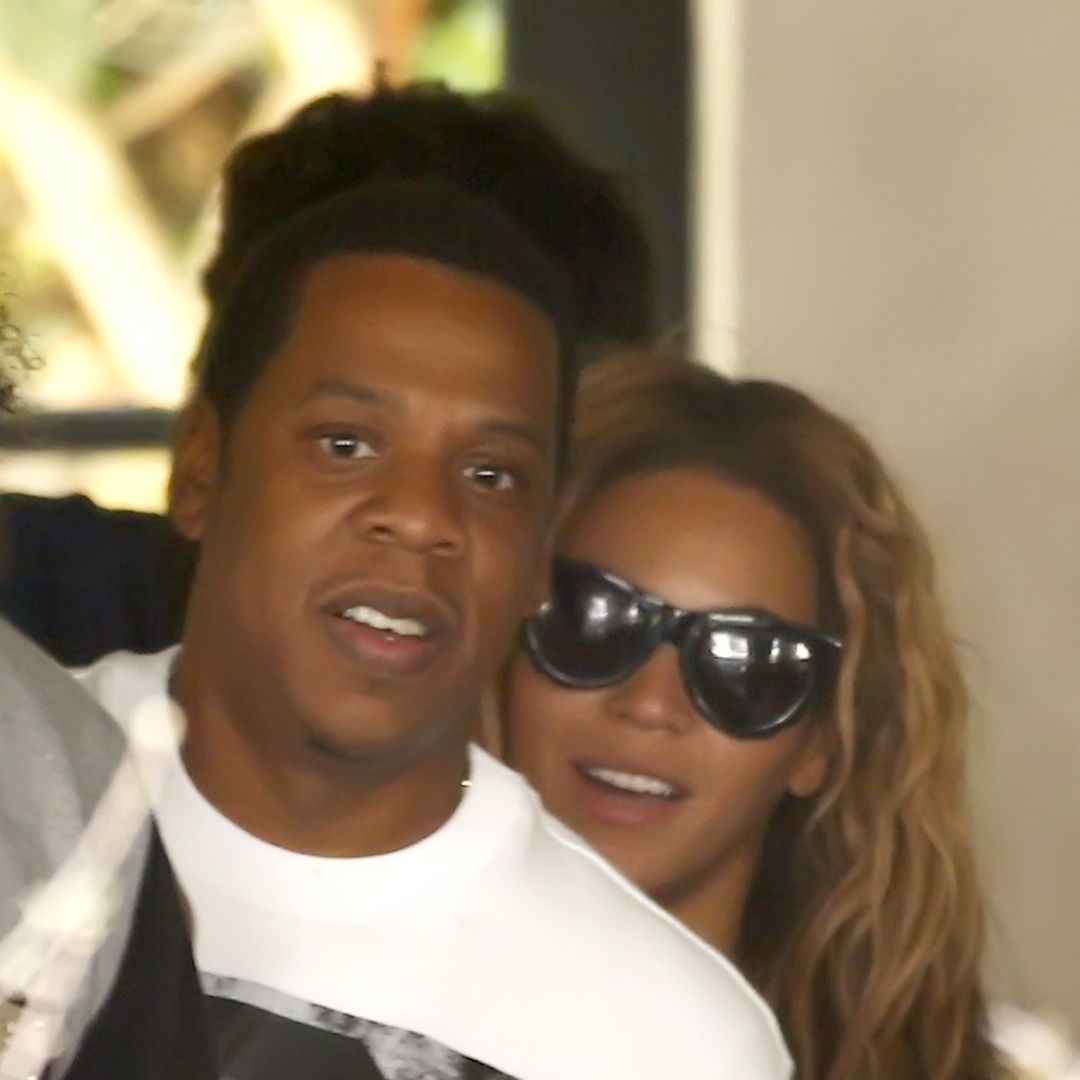 You say power couple, we say Jay Z and Beyonce. It is almost strange to think of a time in our lives before these two became a couple – and after they fell crazy in love (see what we did there?) they became the most famous couple in the world. Still going strong almost 2 decades later – do you think it went to their heads? Because by the look of this photo it seems Jay Z has had to grow extra hair to cover the size of his head knowing he is married to one of the most beautiful and desirable women in the world. We don't blame you, Jay.